THIS IS CRISTINA ALEJOS CAÑADA'S BLOG TO TALK ABOUT ART, PAINTING AND ARTISTS
Welcome to Cristina´s Blog about art, painting and artists. This is the English Version of Pinturayartistas.com
In this blog I intend to store my thoughts about art, themes, painting and artists. I encourage everybody to create his own art work.
Everyone can have an artist inside and can love art. It is our right.
I´m trying to take concienceness about this passion of painting, so I try to reason well, but then I disregard everything, because art is feelings. I value reason and intuition. I do not believe the truth but always tell the truth, and I think also just the right to change your mind and the right to be wrong. I doubt constantly and I have fears.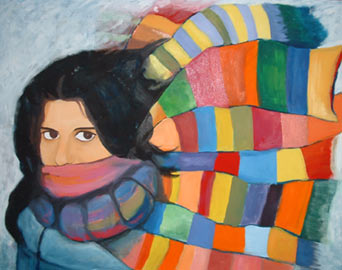 Contact
If you want, you can send me an email to:

OBJECTIVES OF THE PAINTING BLOG
This site is a collection of my information and opinion articles about art and painting. The overall objective is to organize my own thoughts and set my preferences. This need gradually publish what I consider most important and exciting art and specifically, the art of painting. The ultimate goal is to create my own paintings.
Positive objectives:
Organize, develop and share ideas about art, painting and artists.
Encourage the creation and create my works.
Talking about art in general and have fun talking about art.
Meeting new views on painting and artists. Expand your mind.
Develop myself as an artist.
self portraits