A fairy is a creature from the world of fantasy, with human form and wings. They are normally small in size and female. They are related to nature, have certain magical powers and they are present in many mythologies throughout history. For this reason, in the history of painting they have been represented many times.
They are a subject of great attraction because they unite the beauty of women, innocence, the grace of a small being with wings, and also the charm of the forests, spirits and magic.
Fairies in Shakespearean literature. Study for the Quarrel of Oberon and Titania, painted by Noel Paton.

How to paint a fairy
To paint a fairy, certain common factors that apply to all fairies must be taken into account:
1 – Insect-like wings. Thin and transparent wings like those of dragonflies.
2 – Slim and youthful figure. Although it would be original to paint a chubby fairy, such thin wings must be able to hold a being that is also quite light. And although it would also be original to paint an old fairy, fairies are a symbol of innocence and youth. That's why fairies are usually beautiful girls.
3 – Natural ornaments and light clothing. This gives a lot of play in the creation of a fairy, since youth and clothes must go accordingly.
Fairies classes
In Scottish mythology, they are classified as the good fairies, those who help humans, although they are also mischievous. And the mischievous fairies, who enjoy harming humans for entertainment. But besides this, there are many fairies created in literature and legends.
The Spanish Wikipedia adds some more types of fairies:
https://en.wikipedia.org/wiki/Fairy
Images with painted fairies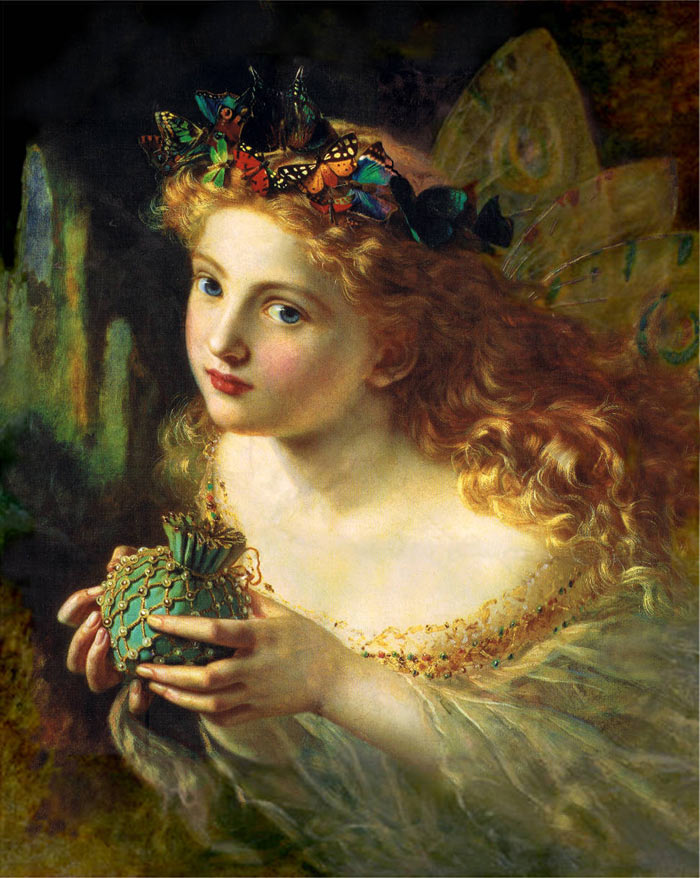 Fairy painted by Sophie Gengembre Anderson (1823–1903). Face of a fairy woman. A painting where the woman's face is sweet and beautiful.
Fairy painted by Luis Ricardo Falero (1851–1896) Lily Fairy, El hada Lily. Painted in nature and equally attractive.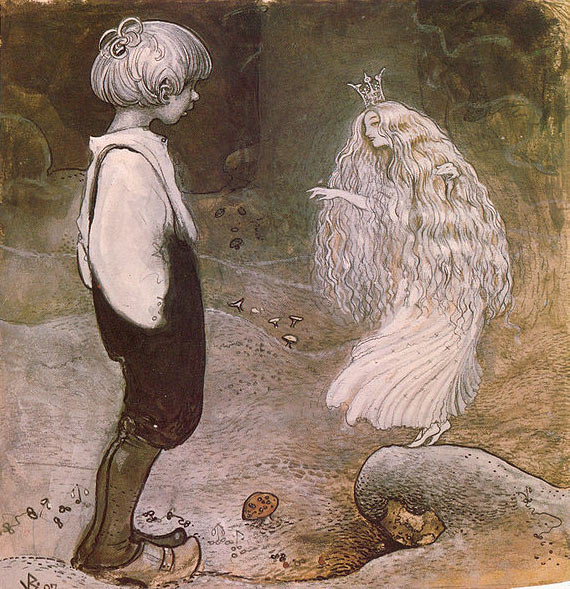 Drawing of a fairy created by John Bauer (1823-1906). With a very different style, more graphic and simple. In the narrative of the tale he says: At that moment she was transformed into a wonderful little fairy.
Image from: http://commons.wikimedia.org/wiki/John_Bauer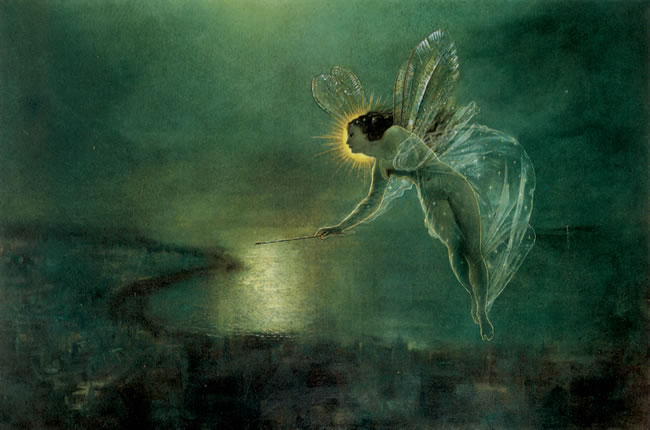 John Atkinson Grimshaw (1836–1893) painted this fairy in 1879 with the title: Spirit of the Night. Flying over a night sky, the transparency of her wings and clothing is very well done.
And finally some fairies by Howard David Johnson, who I talked about in the topic: Howard David Johnson – Realismo mágico
They are more modern fairies, with a realistic style and great physical attractiveness.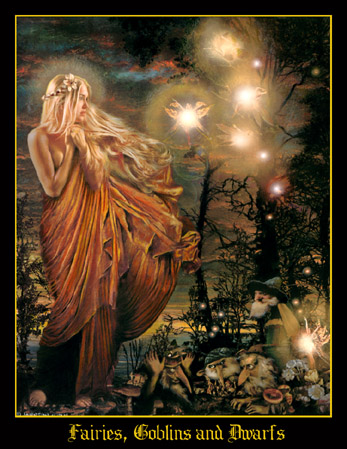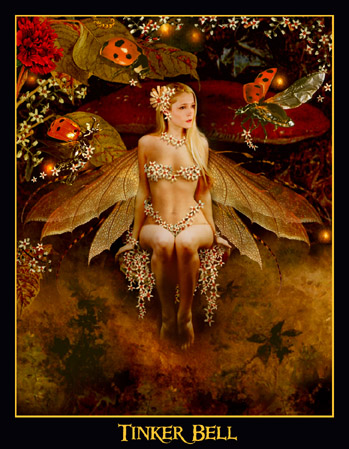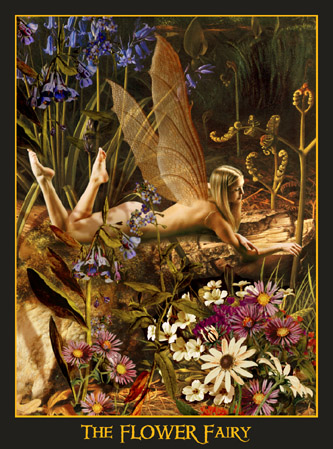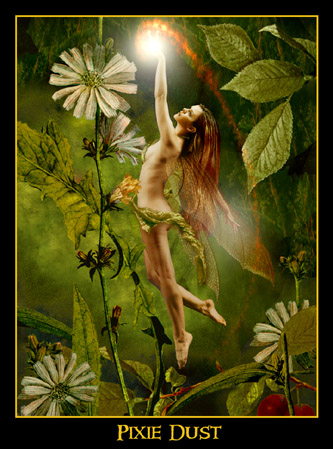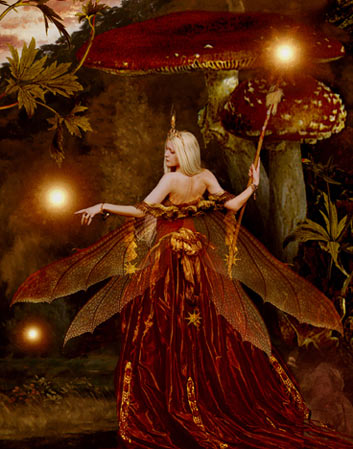 Web site: http://www.howarddavidjohnson.com/fairies.htm
Digital painting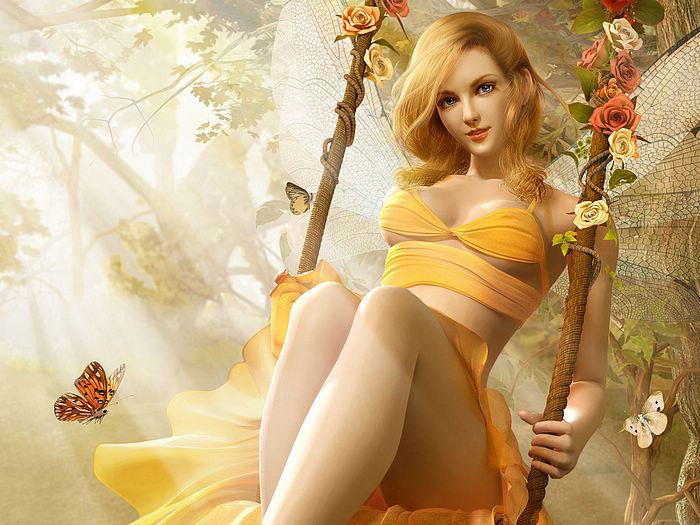 Source: http://wallcoo.com/cartoon/digital_CG_artwork_wallpaper_04_1920x1200/html/wallpaper1.html