Throughout history, painters have received their inspiration from the events that occurred in their specific historical moment, from their surroundings, technological developments, new cultures, new ways of life and all kinds of transformations that human civilization undergoes.
If you are looking for inspirational themes for your next painting, you have to think deeply about the wide variety of subjects currently offered.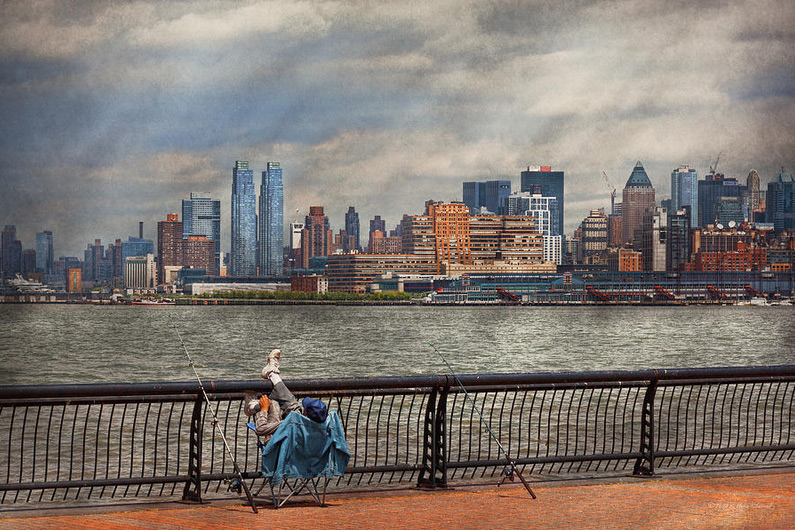 Mike Savad, an example of inspiration found in a great contemporary city. Title "The Good Life.", City – Hoboken Nj – Fishing.
To see in Fine Art America . In addition, the artist has a gallery of Life in the city.
I wonder if today's artists are painting the themes that we see on the daily news and that flood newspapers, televisions and radios every day.
Do contemporary events inspire us? When we hear a news item on TV, do we think… about this topic, am I going to create a painting?
Is it possible that there are artists so involved in the time they are living in that they are even expressing it with their artistic creativity?
Without a doubt, the answer is yes, also now. Yes and also in the different types of art, from theater and cinema to simple drawings.
The current age is represented, because it is part of the nature of artists to represent what surrounds us.
Only that today we have much more news and there is much more information, with a great difference compared to previous times. In fact, it is said that people have become less sensitive to tragedies or surprising events, because we are experiencing too much information.
On the other hand, what current issues are we perceiving the most?
LOOKING FOR ARTISTIC INSPIRATION TOPICS CURRENTLY
A short list of current topics would be as follows:
Terrorism, crisis, natural catastrophes, politics, corruption, violence, wars, and… football? Some news about technology and research, something about humans in space, and some specific macro parties. There are many subjects, but all of them lose the muse in the hands of the official newscasts journalists.
Truly, this would be a bad list, because it is the hateful news that bombards us and that could not inspire anyone.
Normally, painters look for themes where there is beauty, with characters or settings that tell us something about universal themes: existence, freedom, love, passions, sadness, rhythm, peace… So we must find the universal themes into the temporal and concrete themes.
To inspire us a bit in our contemporary times, here I present some much more striking and original pictorial themes, painted by today's artists:
The new professions
From large offices with glass-enclosed buildings and masses of people entering at 9 o'clock in the morning, passing through new specialists of all kinds (elite cooks, quantum physicists or YouTube stars), to speakers of millionaire minds and charlatans from TV .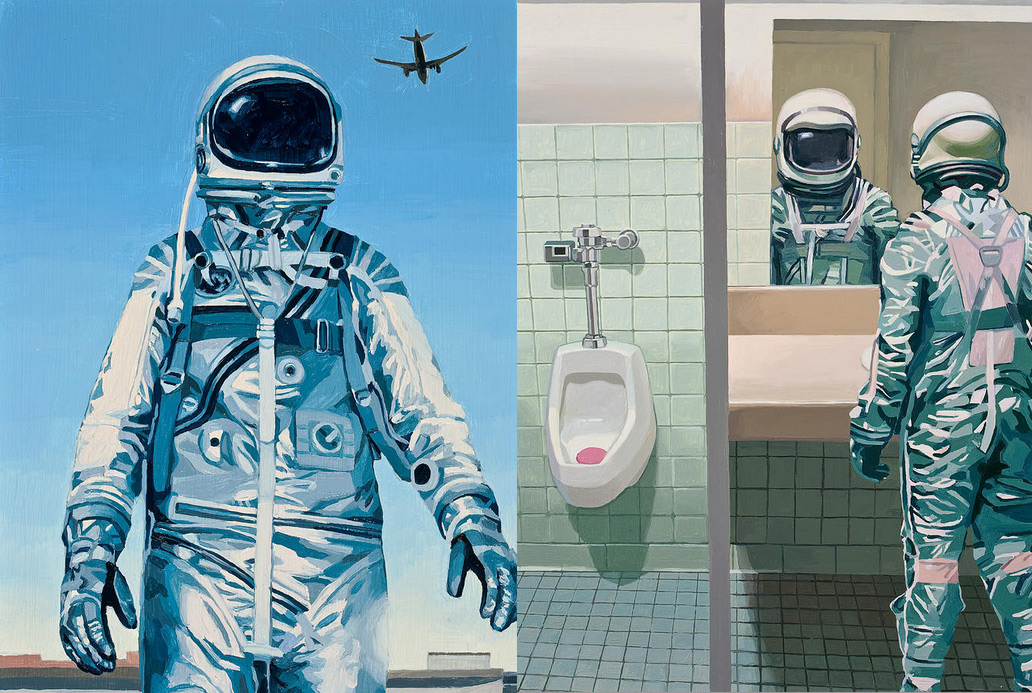 Astronauts by Scott Listfield. To see his gallery into Fine Art America
Modern sports
From professional athletes, who are wonderful for anatomical drawing, to new sports such as Paintball or Flyboarding.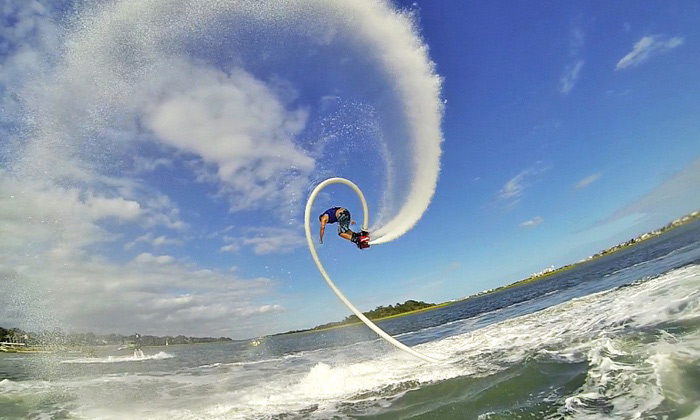 Flyboarding photography.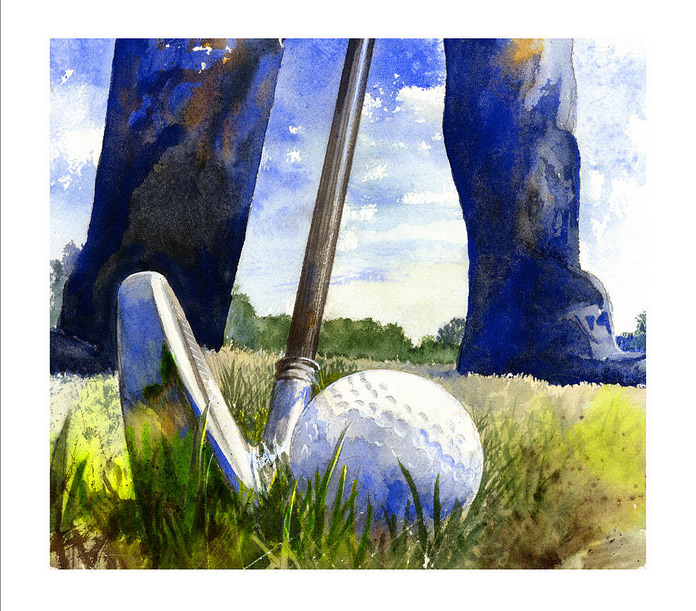 Golf themed watercolor by Andrew King. To see his gallery into Fine Art America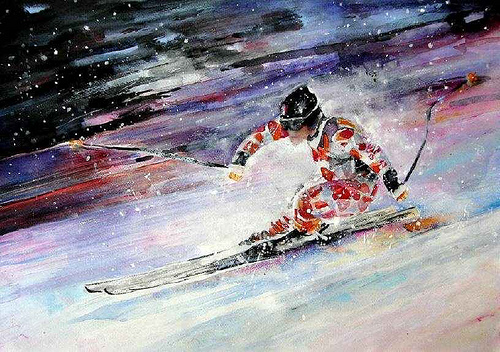 Skier by Miki Goodaboom. To see in Fine Art America. And his gallery with athletes.
Modern transport
The subway, trains, boats (from those for tourists to those that carry containers), planes, paragliders, balloons, etc.
Cars and motorcycles of all kinds. Formula 1, in addition to sports, is a more evolved and very attractive model of a car. And electric cars with futuristic designs, and also spaceships.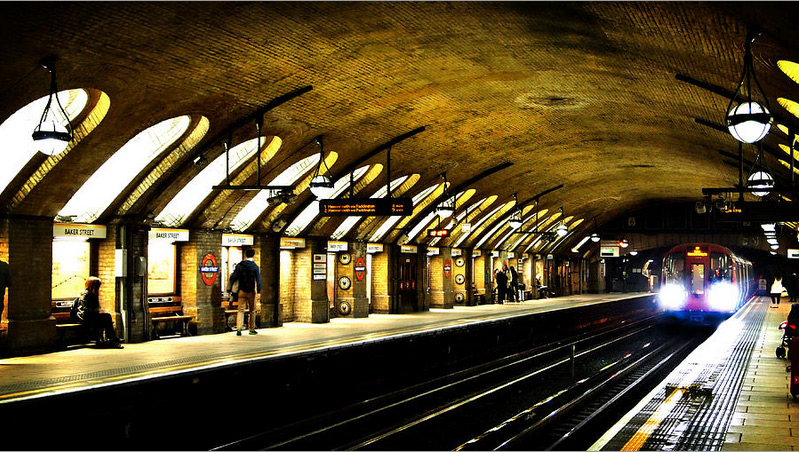 Mark Rogan, Baker Street London Underground. To see his gallery into Fine Art America.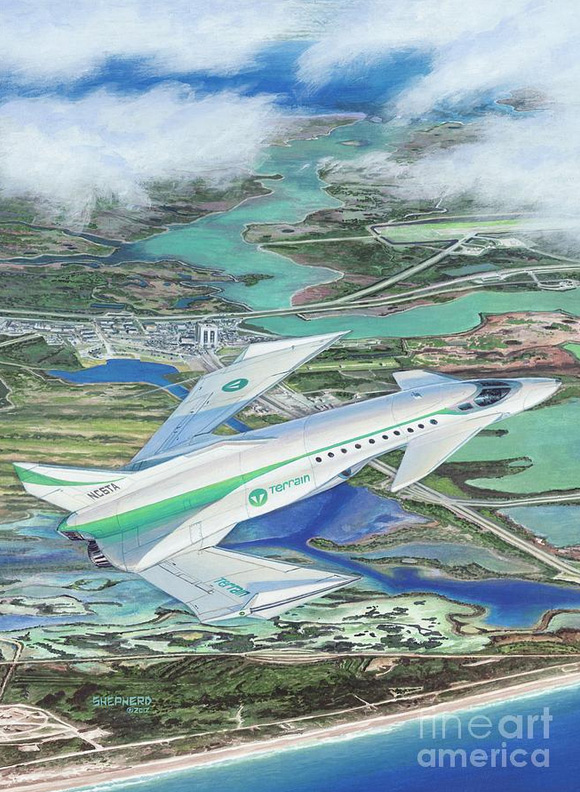 Stu Shepherd's plane, titled Terrain Wyvern. See more in Fine Art America.
New forms of leisure and tourism
From Safaris through Africa to home-made and patriotic rural tourism. And everything that surrounds this culture of life, because it is about seizing the moment and enjoying existence. So it is a subject closely related to the beauty of the world and the ability of human beings to place themselves in privileged points.
Also modern parties and celebrations.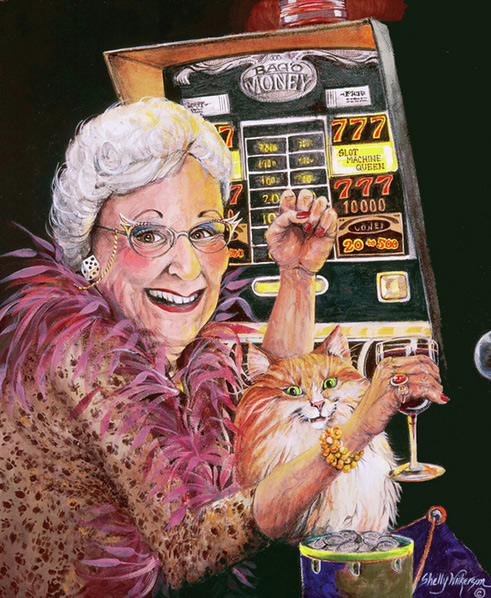 Shelly Wilkerson is an amazing painter with some very nice works. Like this painting of a casino player, with her cup and her cat. Ver su galería en Fine Art America.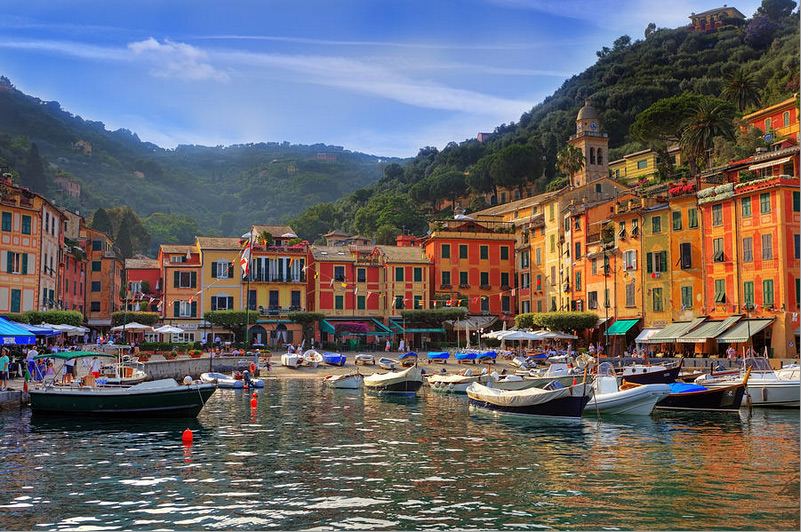 Photograph of Portofino, Italy, by Joana Kruse See more in Fine Art America.
And the same theme of Portofino as painting ..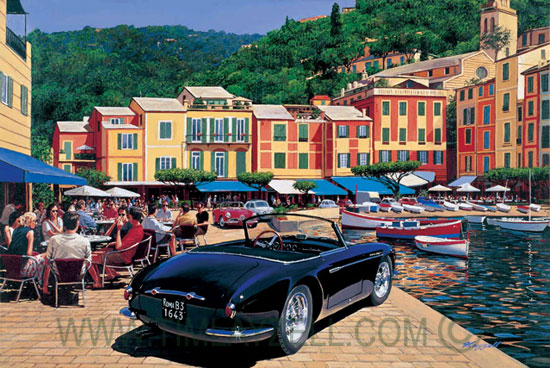 Paintinf of Portofino, by Tim Layzell See more in his web site.
New media and technology
The revolution of social networks, the craze for smartphones and devices of all kinds designed to improve people's lives. But also all kinds of modern science and studies.
And this work has enchanted me. A chemistry laboratory with all the charm of scientific work.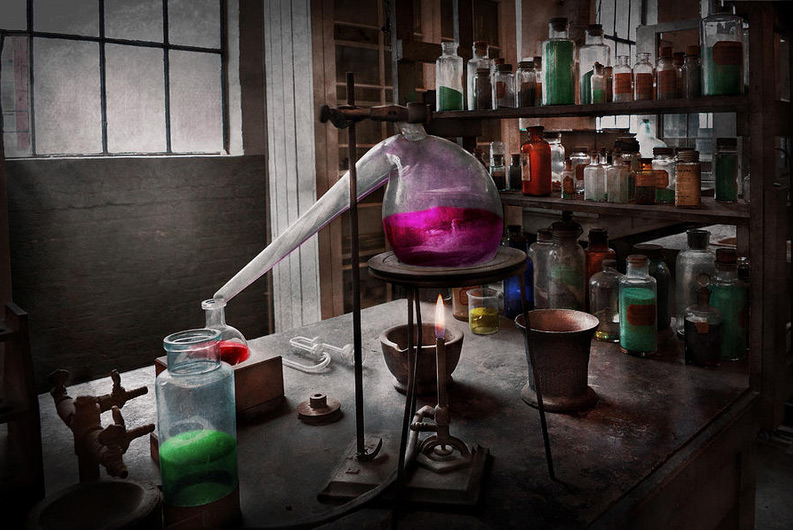 Another good work of the artist Mike Savad. See more in Fine Art America.
The new spiritual movements
There are many painters expressing spiritual ideas. Among those that stand out are the painters of the New Age and similar ideology, as there is a large number today and it is increasing so much quickly. But also all kinds of people who want to express in their works the existence of a spirit or energy that goes beyond the body.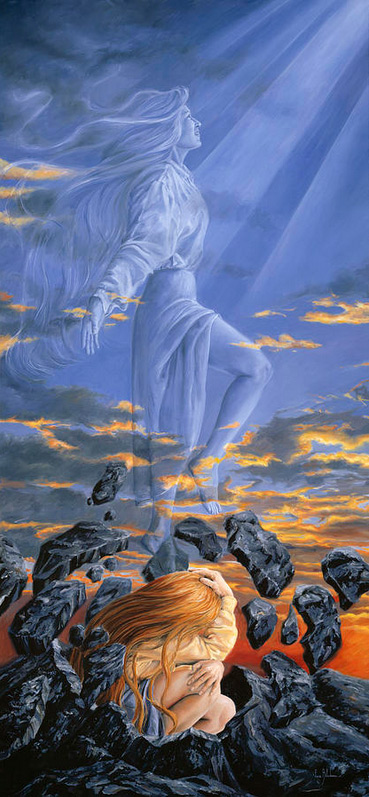 Painting by Lucie Bilodeau, called Air. To see it into Fine Art America.
Fashion and new personal styles
People in big cities stand out for developing highly individualistic, striking and creative aesthetics. From concepts such as fashion, chic, kitch, to the typical styles of punk, heavy, hyppie, manga, etc. So today beauty is more varied and individual.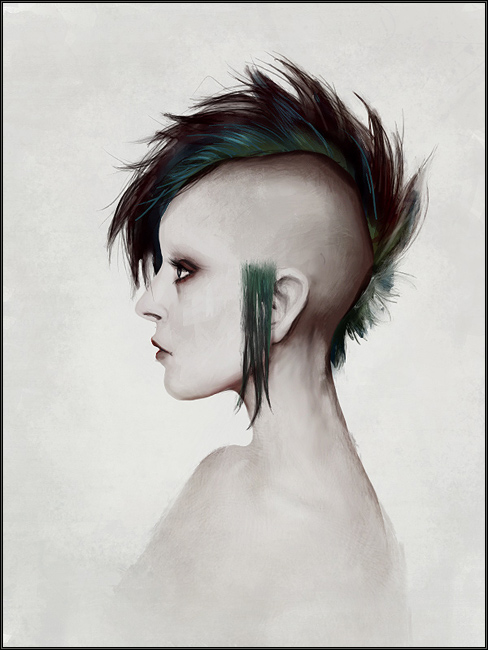 Unknown artist. A punk style but feminine and sensual at the same time, thanks to the softness of the pictorial style.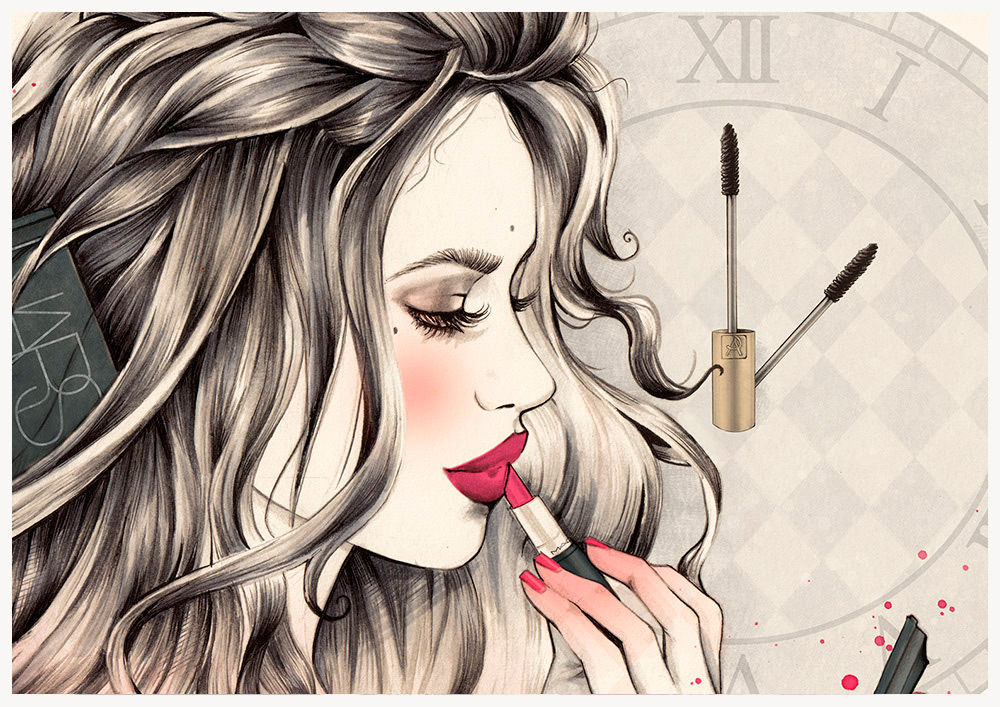 Illustration by Cristina Alonso. Representing a contemporary woman, who paints her lips. See her web.
Contemporary music
All the new musical styles also influence the art of painting and pictorial styles. Being a great inspiration for image creatives.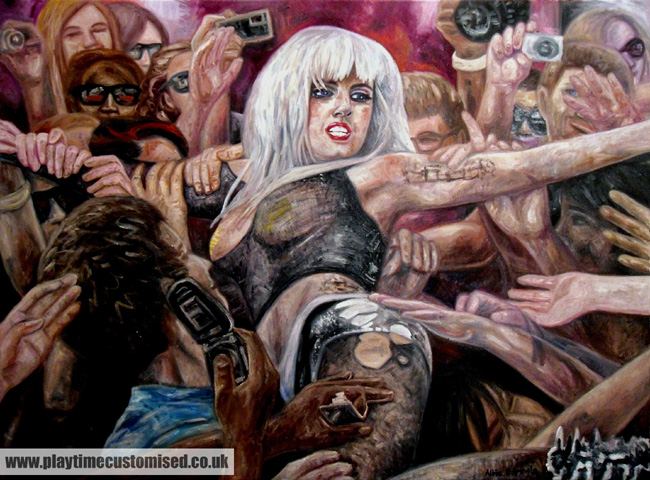 Lady Gaga in concert, painted by Albie Espinola. Source, his blog.
These are just some of the many themes that contemporary times offer us. From the worst to the best.
In brief, you have to live more life to find the most original pictorial themes. You have to do sports, go out to see the world, do exciting activities, do research, learn about new cultural movements, experience yourself… and watch less news on TV.