Painting a self-portrait where we represent ourselves making the art that we like the most, serves to generate the positive energy that allows us to continue working as artists and to generate the good luck of being able to continue creating the art works that we want.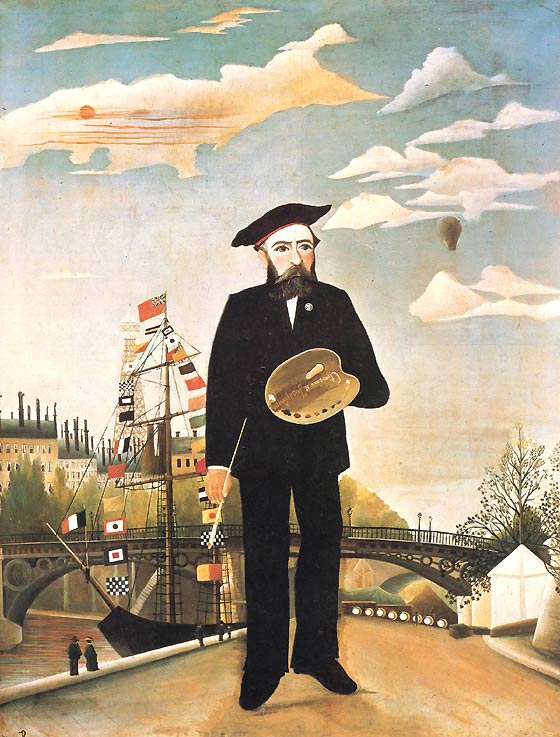 "Le douanier Rousseau, Jungles à Paris", Rousseau's self-portrait.
That is why, throughout history, painters have made multiple paintings with themselves painting, with the painter's easel and the canvas next to him, the brushes in the hand and a favorable environment for the realization of the work. It is also a kind of therapy or go within in oneself, since we generate the image of ourselves in the artistic activity.
Have ever wondered how I would make a self-portrait? I think there are a many solutions in this post and that is going to generate a lot of positive energy and good luck for you, because we are seeing ourselves doing what we like the most, painting yourself, painting or creating your art, being free and capable to be creative.
The self-portraits of painters painting are infinite, but here I want to collect as many as I have been able, due to the curiosity that generates us to recognize some of our favorite artists and because of the varied creativity of each one.
Self-portraits painting of the most famous painters
Gustave Courbet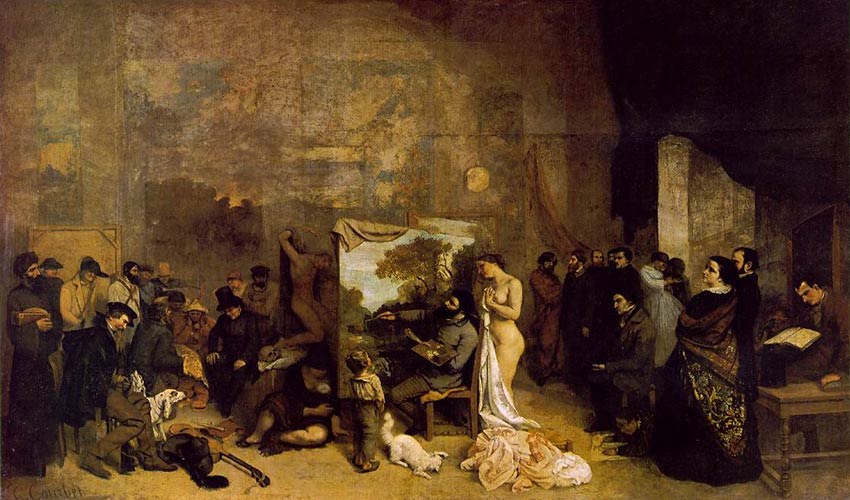 The artist's studio, Courbet's self-portrait surrounded by all his world and muses. 4 m x 6 m, oil painted in 1855. At the same time, he visualizes the pictorial themes, his study and himself, generating a very powerful composition, which enhances his profession as a painter.
Judith Leyster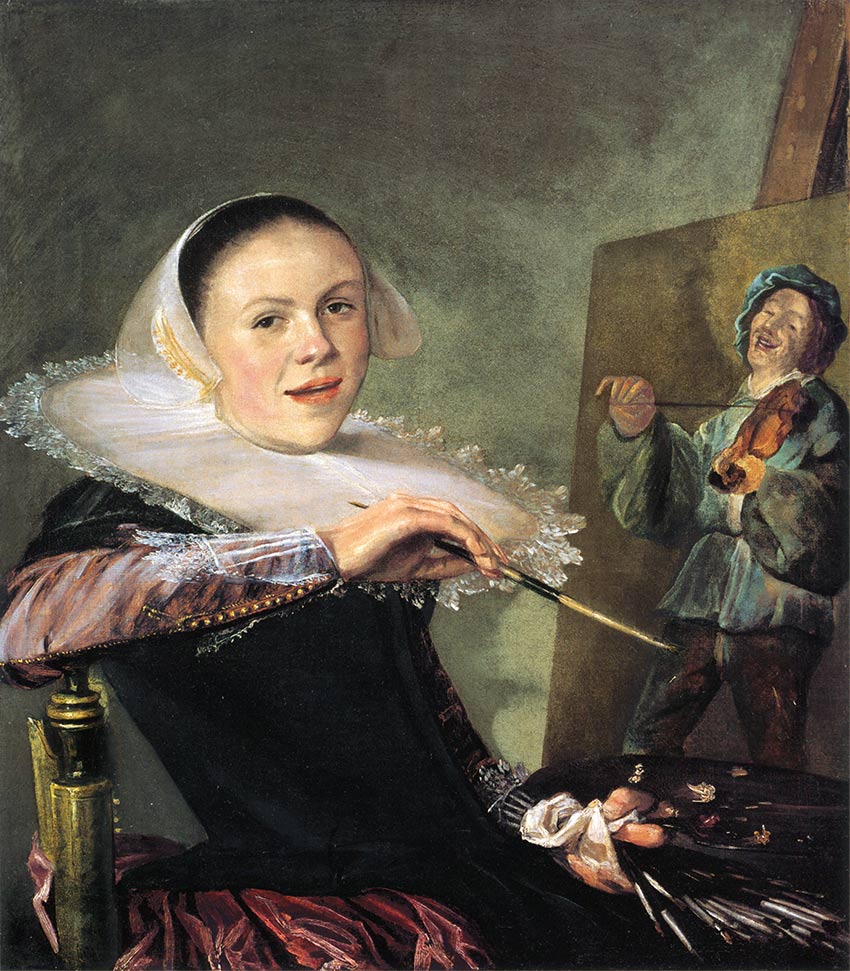 Self-portrait of the painter Judith Leyster.
Marc Chagall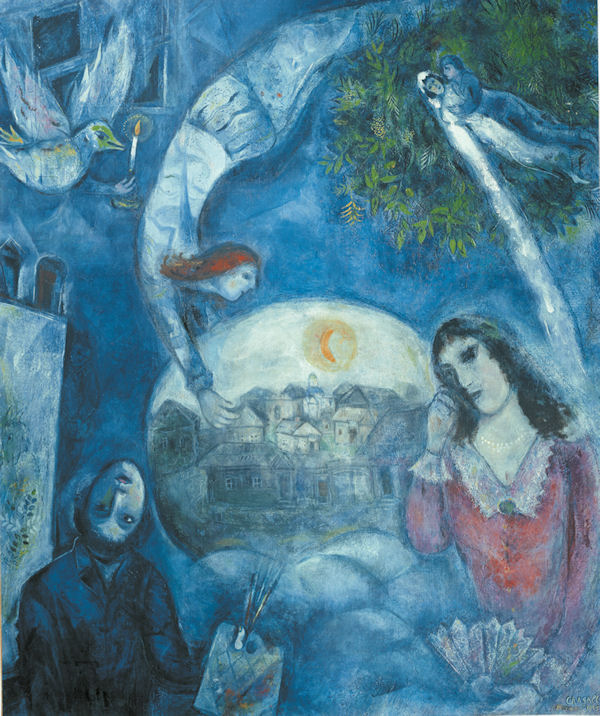 Self-portrait of Marc Chagall, after the death of his wife, entitled "Around her". This painting is totally therapeutic, as Chagall stopped painting with Bella's death and it took a year for him to pick up his brushes again. The sadness that is reflected in the blue-toned painting is the sadness of losing what he most liked to paint. There are many pictures where his wife was a character in his paintings. Luckily, he found new subjects and he repainted beauty and the things he loved.
Modigliani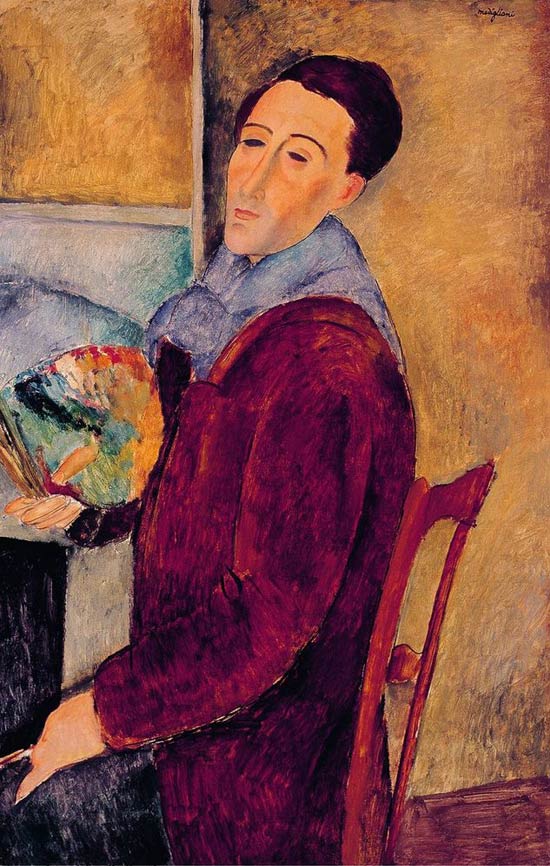 Self-portrait from 1919 with the young and dreamy Modigliani, with a serene and happy face.
Norman Rockwell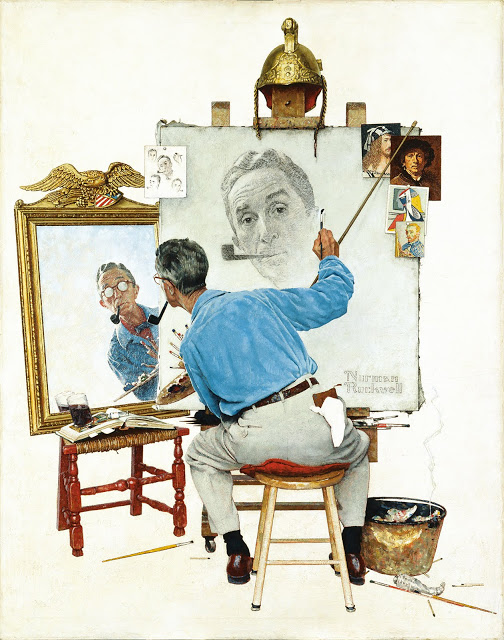 Norman Rockwell Self-Portrait – 1960. A fun self-portrait of this great American artist.
Source and more of the magnificent works of him:
http://jahartwick.blogspot.fr/2011/08/norman-rockwell.html
Tsuguharu Foujita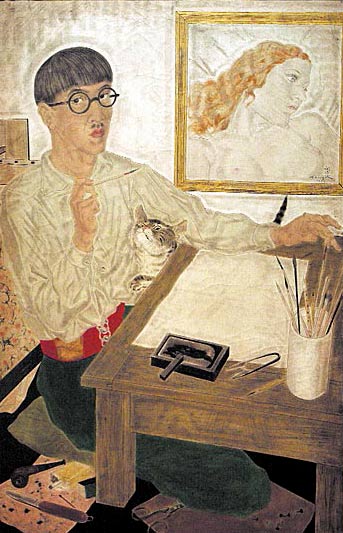 Self-portrait of the painter Tsuguharu Foujita, 1931. He's at his drawing table and we see a mixture of tradition and modernity.
Julio Romero de Torres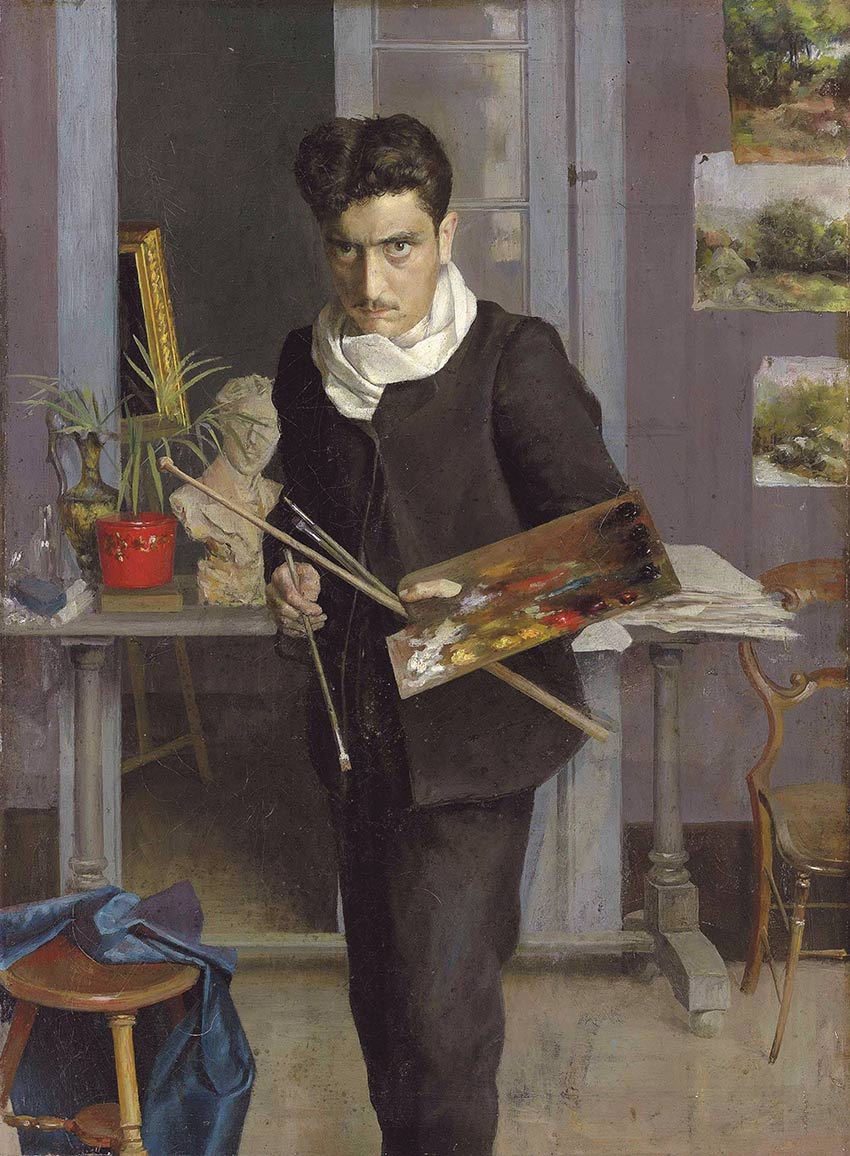 Self-portrait of the painter Julio Romero de Torres. His tense face is very attractive in the work, looking at the viewer as if we were his canvas or model. Torres is painted like a real gentelman, with brushes in his hands but very elegant man.
Oskar Kokoschka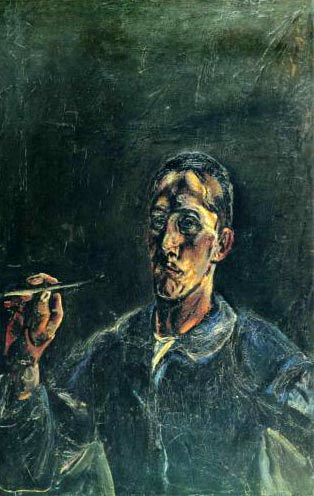 Self-portrait of the painter Oskar Kokoschka.
Otto Dix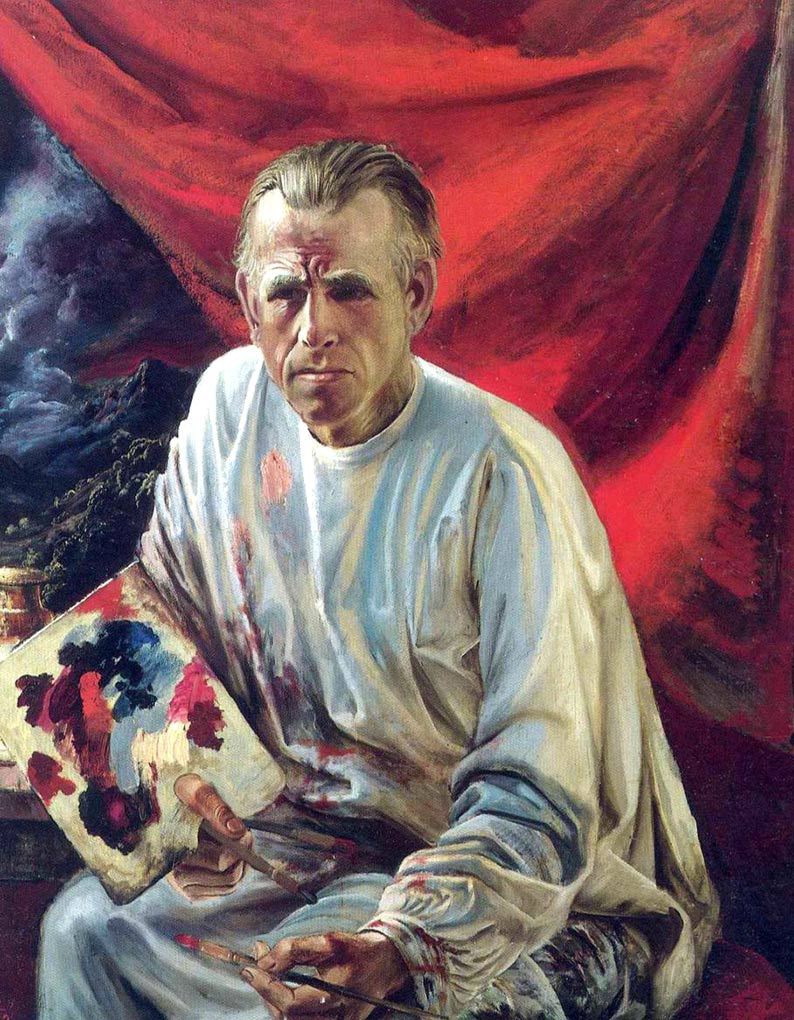 Self-portrait of the painter Otto Dix. This is a mature painting, with a certain thoughtful expression but with an atmosphere of satisfaction for his artistic career. The pictorial expressiveness that Dix reached in many of his works can be seen in the quality of his brushstrokes, but at the same time, this work contains a certain serenity that surpasses all ism or any way of referring to it. The firm way he takes his red-stained brush makes me think of the search of truth that many artists carry out, becoming aware of how life is hard and what it means to live in society.
Beckmann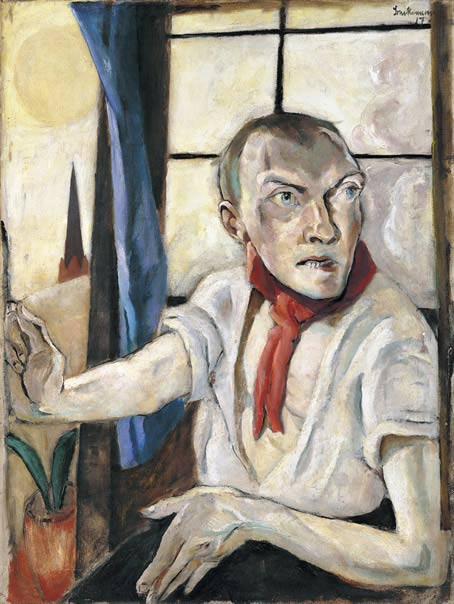 Beckmann's self-portrait after the war. The suffering he experienced is still reflected on his face. His mind being very disturbed, the painter made this self-portrait where he was looking for himself and where he visualized himself painting. It is, in my view, a self-therapy and a way of strengthening his artistic initiative, his pictorial talent and his intimate desires, although he also managed to represent how he felt in those moments.
Raoul Dufy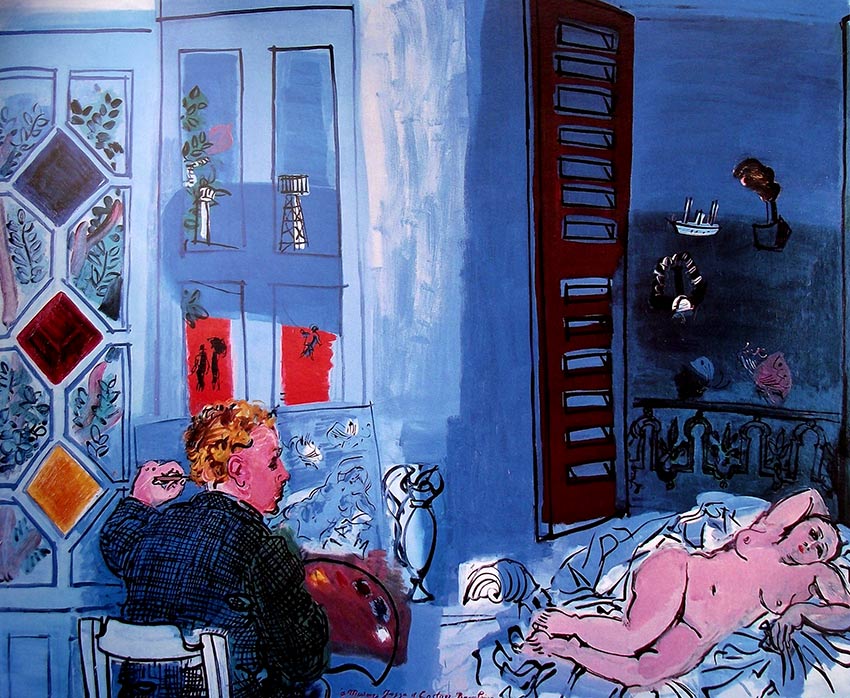 Self-portrait of the painter Raoul Dufy. In his colorful studio, with his model and representing the whole. A very lively and cheerful painting.
Henry Rousseau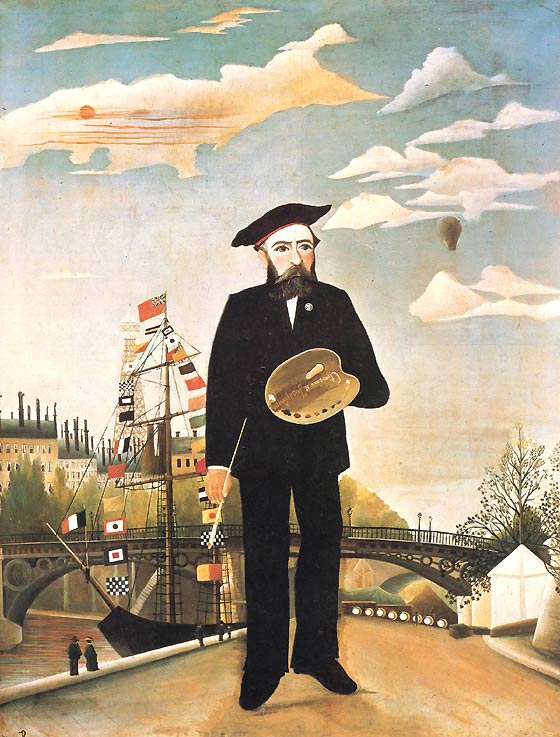 "Le douanier Rousseau, Jungles à Paris", Rousseau's self-portrait as a painter, 1890. 146 × 113 cm (57.5 × 44.5 in). An almost touching image of the position of a painter in front of the civilization that he tries to capture in his works. With the palette and brushes in his hands, he seems to take a moment to internalize the scene he is witnessing.
Source: http://en.wikipedia.org/wiki/File:Rousseau09.jpg
And finally, two self-portraits of the great Vincent Van Gogh …
Vincent Van Gogh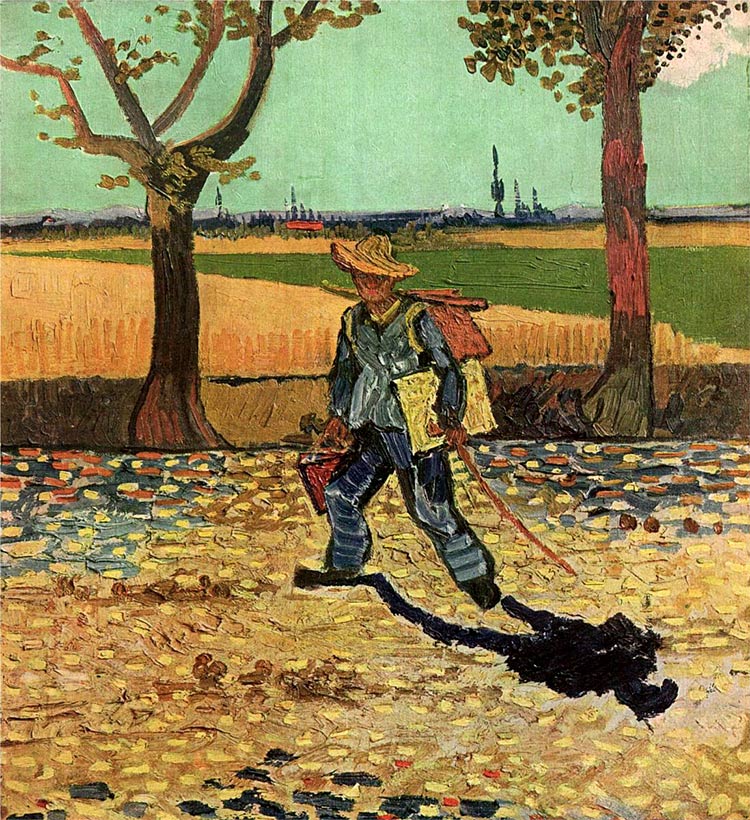 Self-portrait of the painter who goes to work. A scene in nature where the artist in the center is loaded with his painter's utensils, in full pictorial activity on the way to the stage that he is about to capture in his work.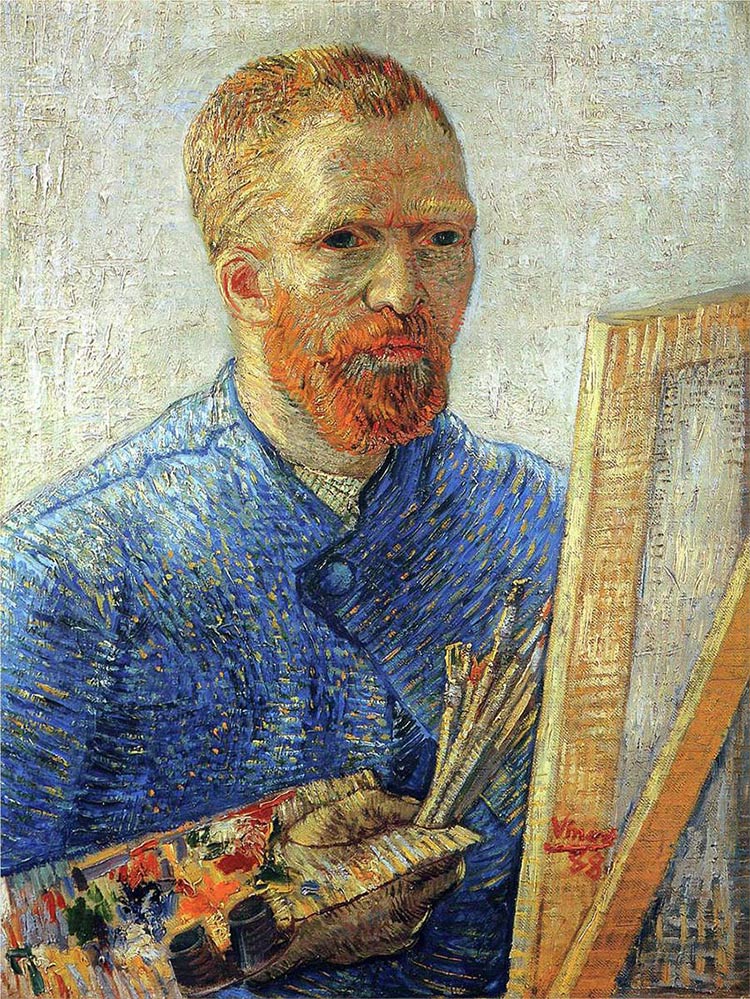 Self-portrait with brushes and painting. An adult older face, being a later work. With a certain fatigue in his eyes and with smaller brushstrokes, losing that overflowing energy that he had in previous works. Although all of Van Gogh's paintings were dedicated to the greatness of God's creation, this painting was dedicated to himself because of the immense pictorial work he did.
More pictorial works with self-portraits of painters
Women artists: http://www.pinturayartistas.com/recuperemos-a-las-mujeres-pintoras-de-la-historia/
Self-portraits of artists on the Wikipaintings: http://www.wikipaintings.org/en/search/self%20portrait/1
http://en.wikipedia.org/wiki/Self-portrait
Cristina painting
My own self-portrait, created for the blog: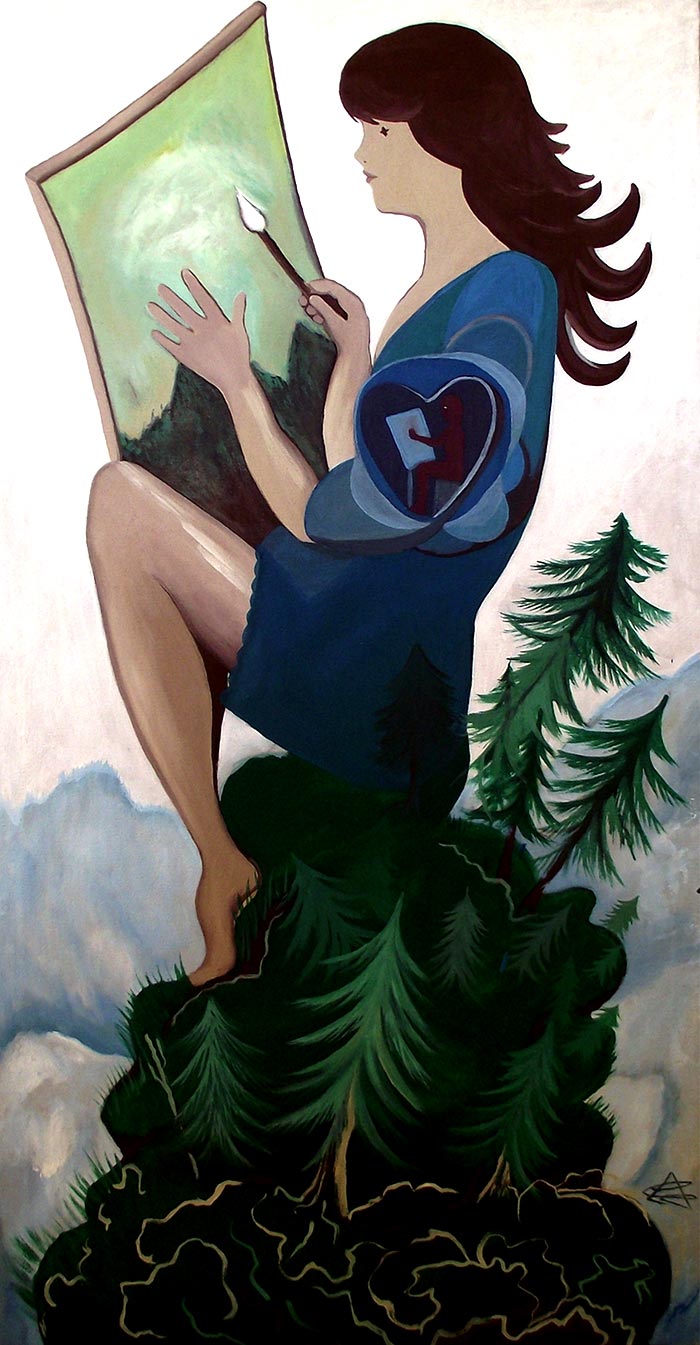 Cristina painting. On the top of the mountain, like Friedrich's Wanderer above the Sea of Fog, but with brushes in my hand, to be able to capture the beautiful image that the walker could see.
With a heart superimposed where a painter got into, causing my passion for painting. A happy portrait that will create my good luck.
It is very easy to paint yourself painting or drawing.