Searching for contemporary painters who paint music, I have found various solutions to the challenge that supposes the representation of sound, music and rhythm.
In this post I share my studies on this subject, how contemporary painters dare to paint pictorial themes related to the world of modern music.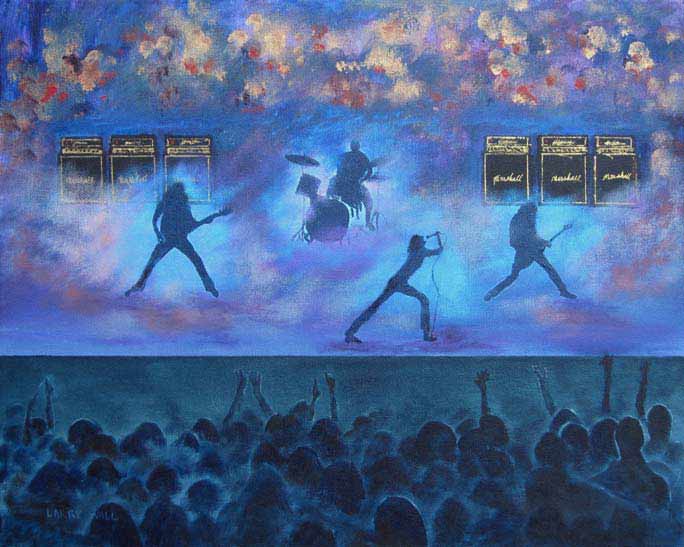 Painting of a Rock Concert by Larry Wall. Imagen source.

The first thing I find when I search in English for "Painting music" is the website of Phillip Schreibman: Painting music
The theme of his paintings is music, but … Has he managed to express it? As is often the case with visual arts, the subjective component is too strong, but even so, we can see that it uses the following visual elements:
The repetition of forms.
Pure and alternately repeating colors
Compositions in abstract style.
I am not going to add any images about abstract painting because this is not the theme of this post. For that, I have done the post: Kandinsky and the music.
Famous artists on Internet for their paintings with musicians or with the theme of music
Justin Bua
He is one of the most famous painters of musicians, protagonists of his paintings, created with his stylized style and very original compositions.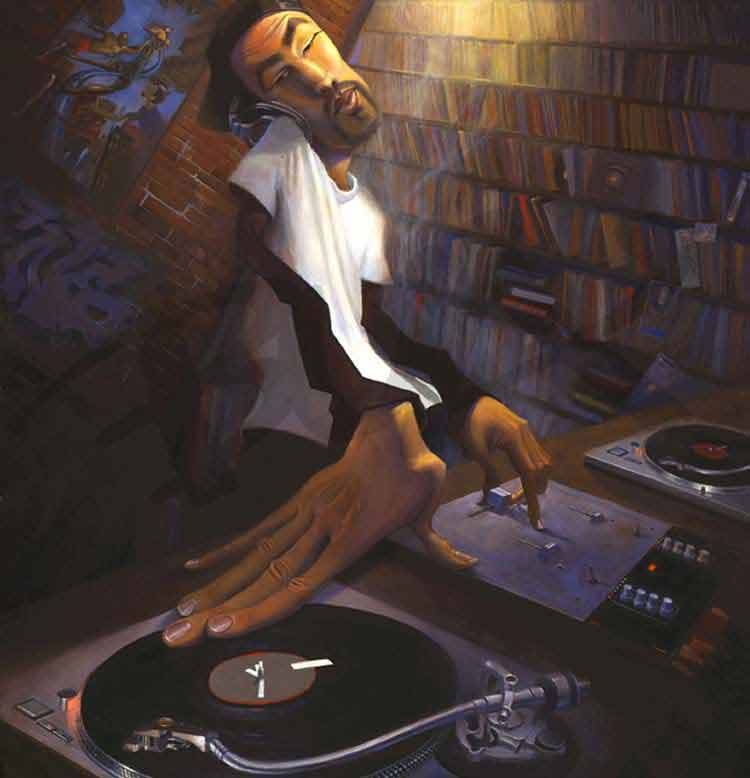 Works like this, "The DJ", by Justin Bua. They have been sold on many websites such as Art.com for many years. You can buy it in print on paper or on fabric, and so, you have a copy of the famous work. Today's artists can earn a lot of money with a single work that succeeds and is sold in this way, canvas print copies.
Your website has now become a store: http://www.justinbua.com/store
In truth, he has become rich thanks to this painting and others like it, and he has even set up an academy.
Nenad Mirkovich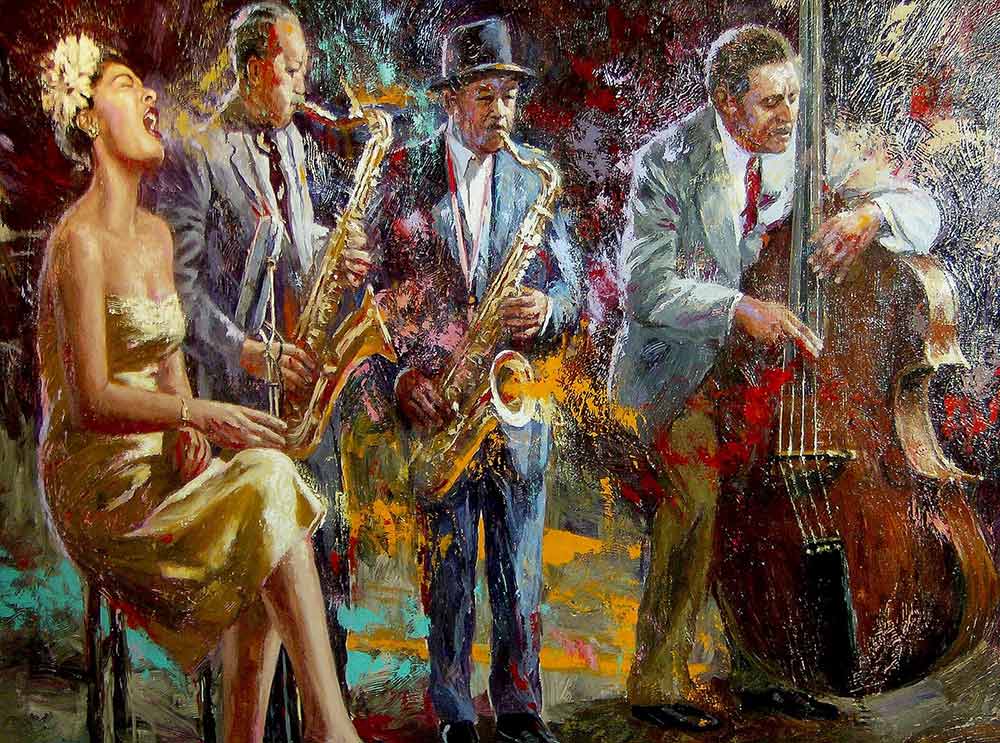 Melancolic Blues, by Nenad Mirkovich.
This painter tries to create the effect of music in the environment of the painting, with this type of colored brushstrokes around the figures. However, he resonates shrill, perhaps a bit like a bluesy with too many instruments.
The figure of the woman singing is superb, it does convey song and music.
Gabriele Wendland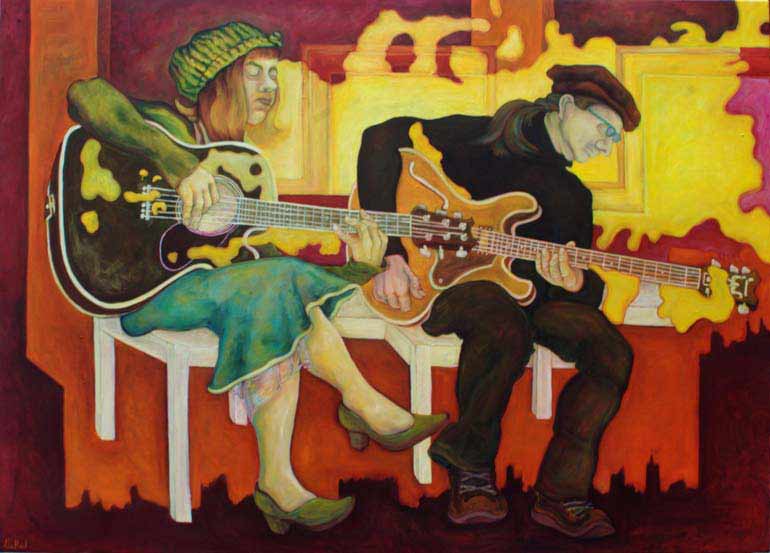 This is a German painter. Her painting of her music titled "Joy and Junica" is on sale at the Saatchi gallery for $ 5,750, and it's cheap compared to others out there.
The key to this painting is the composition with the position of the musicians, concentrating on playing the guitars. The masses of yellow color try to capture the sounds emitted by musical instruments. It is an attempt to represent the invisible in some way with painting.
More works by Gabriele Wendland can be seen at: Gabriele Wendland website.
The theme of music in painting and its details
Music headphones or earphones. Modern technology
In many modern works I have seen the use of headphones, which is normal, because today music is heard with them and they are represented in paintings. It is used a lot in Manga illustration. In addition, digital music players are also represented.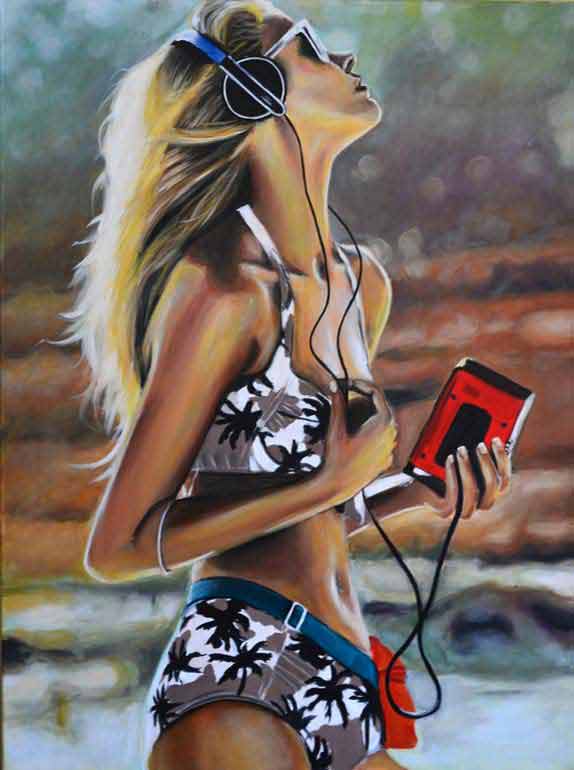 The beach, by Maria Folger (United States) shows a young girl with headphones who could be listening to any kind of music. The girl's expression of well-being adds some sound to the image. For sale at Saatchi.
Music = Dance, musical notes and repeated shapes in the space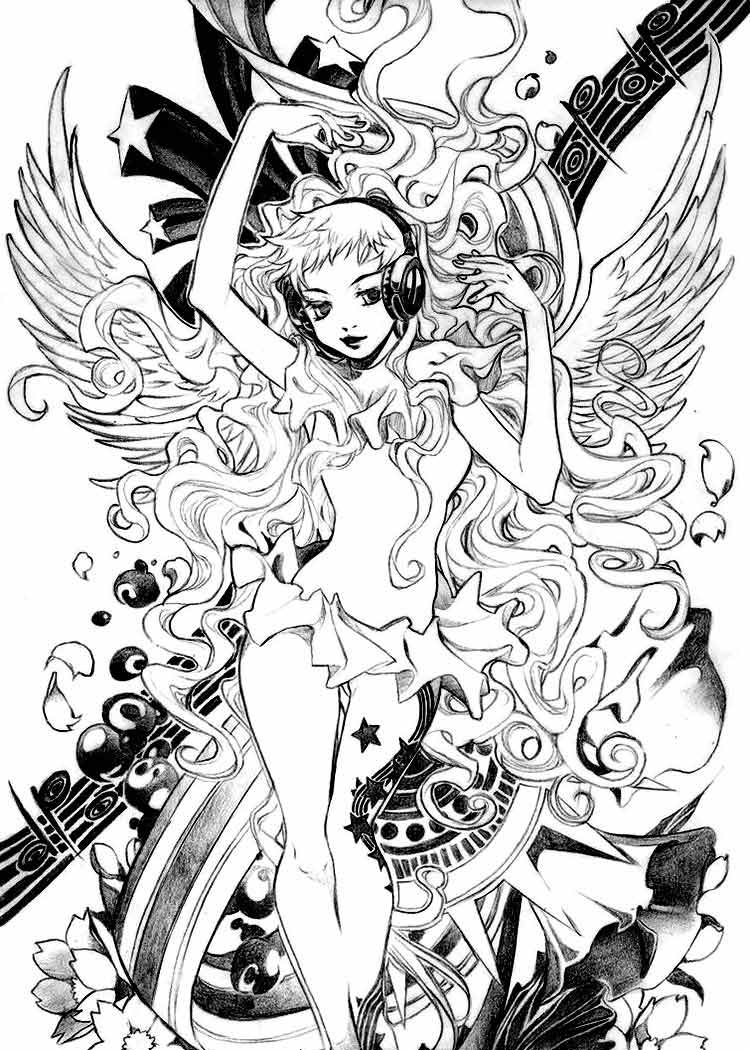 Kyoto Taide, in Deviantart, he shows us this drawing with a young girl enveloped by music that is represented with rhythmic forms of design in a well coordinated composition.
Human feelings and the young spirit
Music expresses so many human feelings and in such varied ways that it is for this reason that painting receives an enormous source of inspiration. We can get to express the idea of music if we know how to grasp and feel what music transmits and means in people's lives. This work, below, is charming for two reasons. Musicians are children and because in the sky, instead of flying musical notes or abstract repetitive shapes, what fly are electric guitars with wings.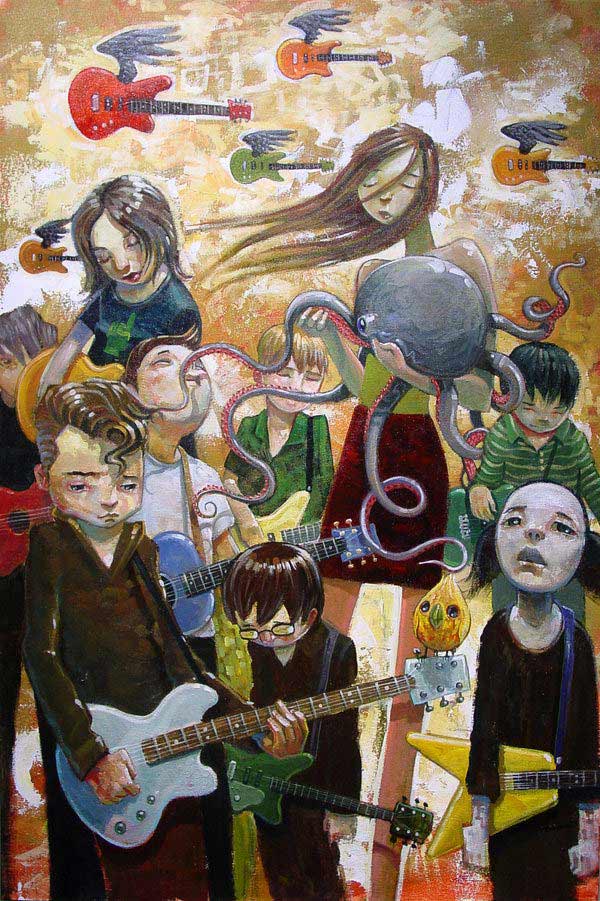 Tentacles of the Muse, a painting by Jasinski, found in Deviantart.
Music is closely linked to youth, and the artists who create themes about it are very young. So it follows that it is a more important and inspiring topic for young people.
Modern graphic design
If we search for "Music" in image sales portals we will find quite a few ideas. Many images created with Photoshop with very bright colors and mix of shapes with musical notes, lines, etc.
In addition, album covers give work to current illustrators and graphic designers, although not always creating images that connote the music, sometimes, as images that they create if they try to relate to the product they sell.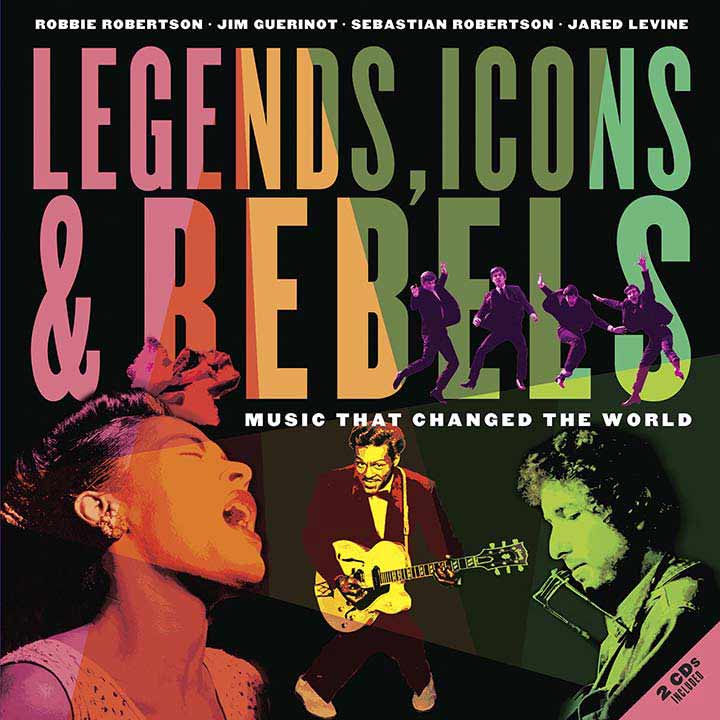 Album cover Legends and Icons rebelds
And finally, if we look for images by type of music, the most illustrated has been Jazz and Rock, usually with singers. There is also much more guitar than in ancient times, although there are also flutes and saxophones. Many instruments continue to be painted in the Picasso style, such as his guitarist from the blue period. And it is still very aesthetic to paint compositions with musical instruments.
Conclusions on the paintings dealing with the theme of music
It is not so easy to express the music but when the musical sensation and rhythm are achieved, at least a little, the works sell very well, because we are joining two arts (painting + music) and that is always more attractive. It also seems that painting must join contemporary music, with its new images.
Originality is always a friend of mixing things and today there are many new elements related to music. The art of music is the strongest art today, along with cinema, so it is very much alive and in continuous growth and evolution. Besides being an impressive business and a great passion for people.
Add link to this Vimeo video – Paint the music. A bit long but very pretty.
Previous topic: Painting Music – In the antiquity