When we paint a person or an animal sleeping soundly, sometimes it seems that we can also paint what they are dreaming about and the mysterious and internal world in which they are currently immersed. It is an indiscreet glance, we observe when that person is unconscious. But in the world of painting and illustration, it has been used a lot to express innocence and beauty. In addition, if those who sleep are children or beautiful maidens, the idea of innocence is enhanced.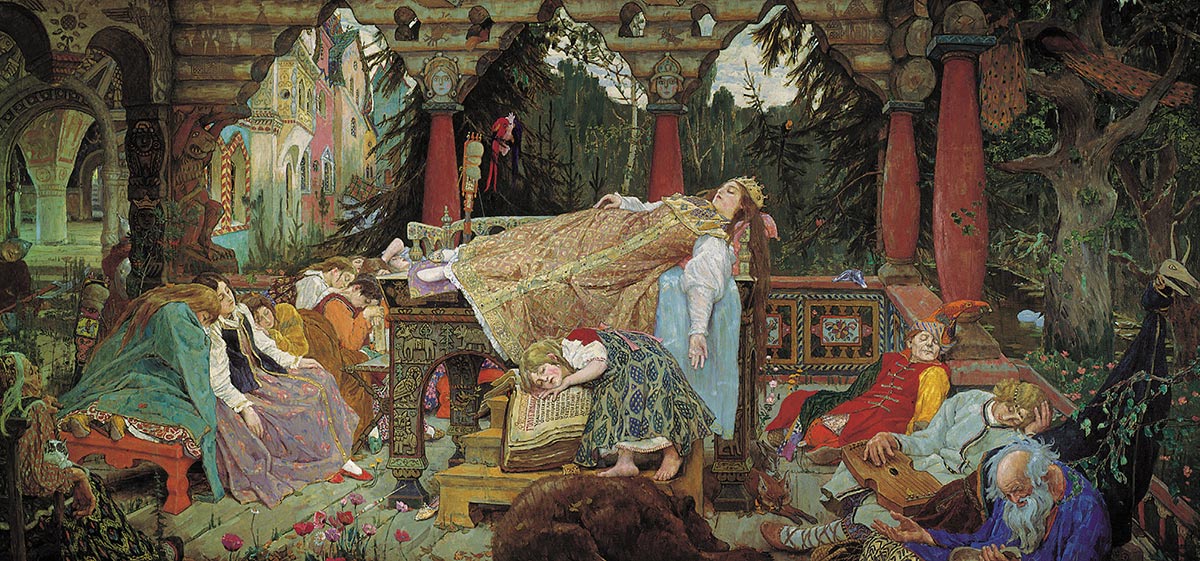 Sleeping Beauty, painting by Victor Vasnetsov (1848 – 1926). The tale of sleeping beauty, which has been widely used in illustration for children's books. Vasnetsov made this impressive painting in his pictorial style.

Here you have a small collection of paintings where the main characters are happily sleeping. Let's start with Van Gogh …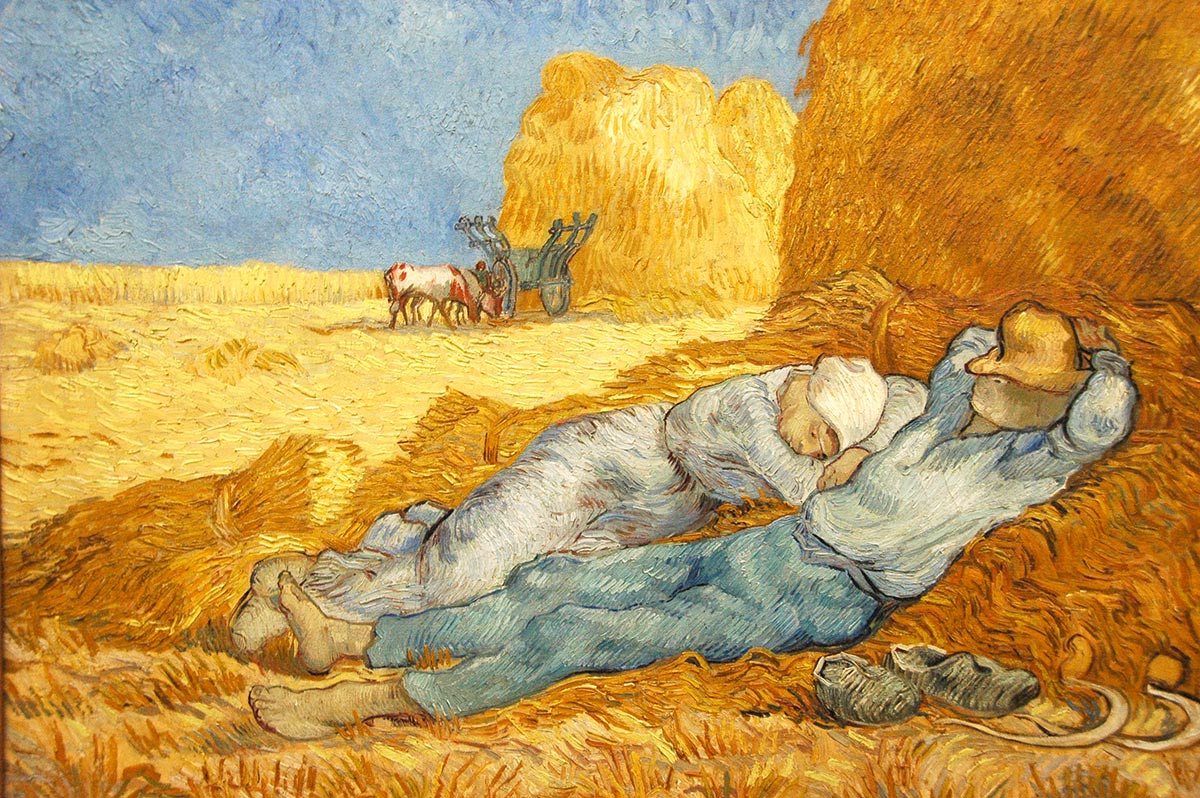 The siesta (after Millet), by Vincent Van Gogh (1853-1890), painted between December 1889 and January 1890. 73 x 91 cm © RMN-Grand Palais (Musée d'Orsay) / Hervé Lewandowski.
Van Gogh made this painting inspired by a drawing by Millet and while he was in the Saint-Rémy mental asylum. Those who sleep are two farm workers, who surely, after work fatigue, enjoyed their nap.
One of the most famous works of a sleeping woman is the painting titled "The Dream" by Picasso. It's one of those paintings that the artist created while he was playing and with one of his young women, Marie-Thérèse Walter.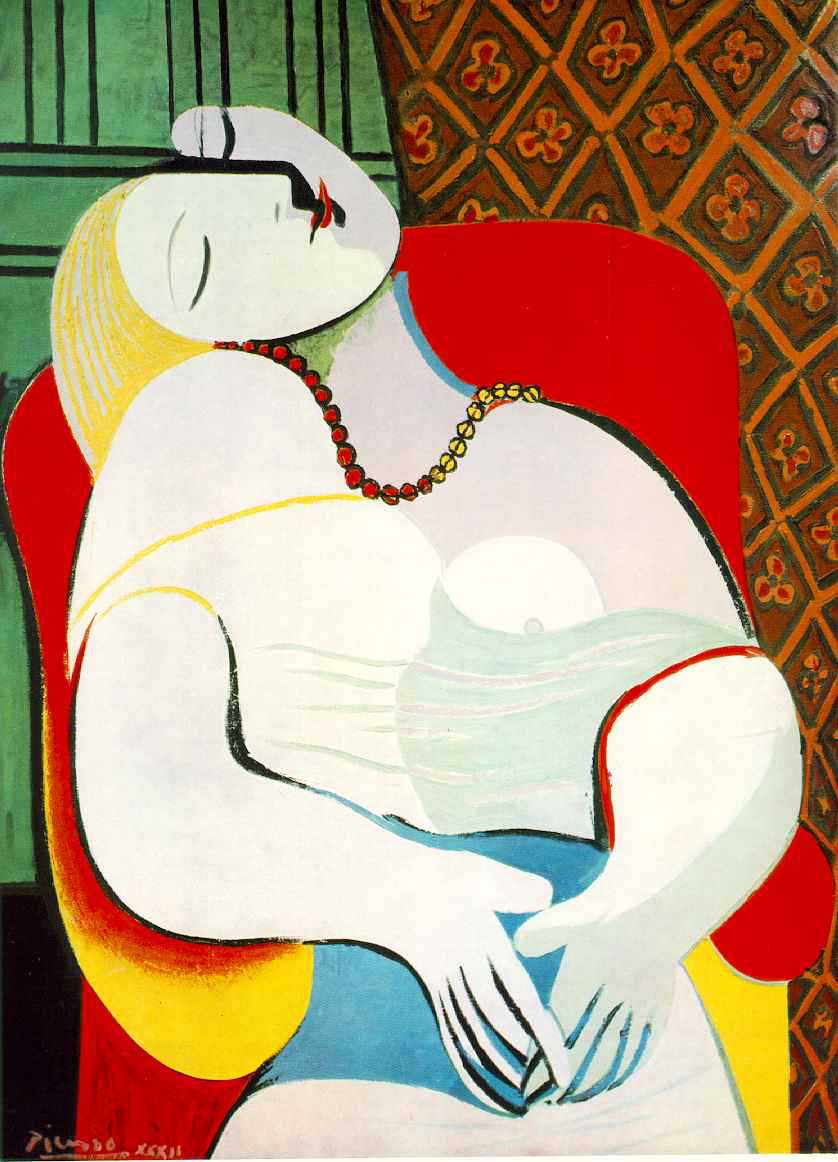 The Dream, by Pablo Picasso. Oil 130 × 97 cm. The tilted head of the model next to her closed eyes are the expression of her dream. Her expression is a simple and happy sleep.
Women posing on the bed is a very classic theme, they are the Venus of beauty. But sometimes she falls asleep. Albert Moore, in his Pre-Raphaelite style, sensually painted his inspiring muses asleep, like the next two paintings.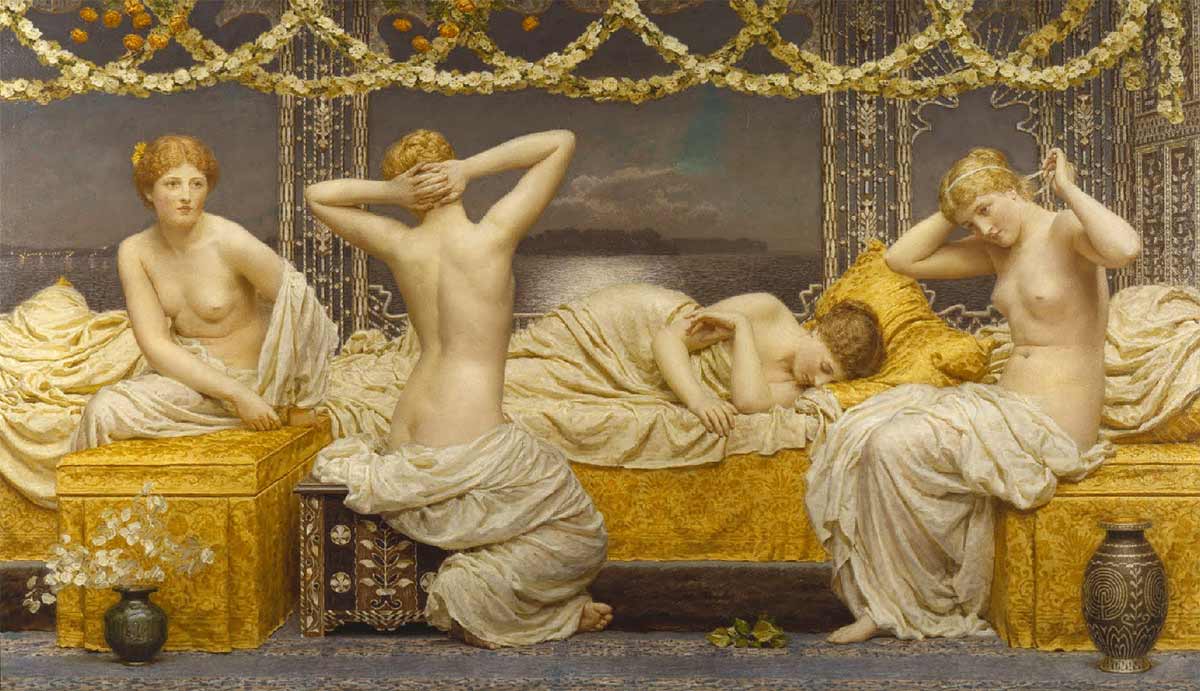 Summer Night, by Albert Moore. Oil, 2285 x 1320 cm. Liverpool Museum.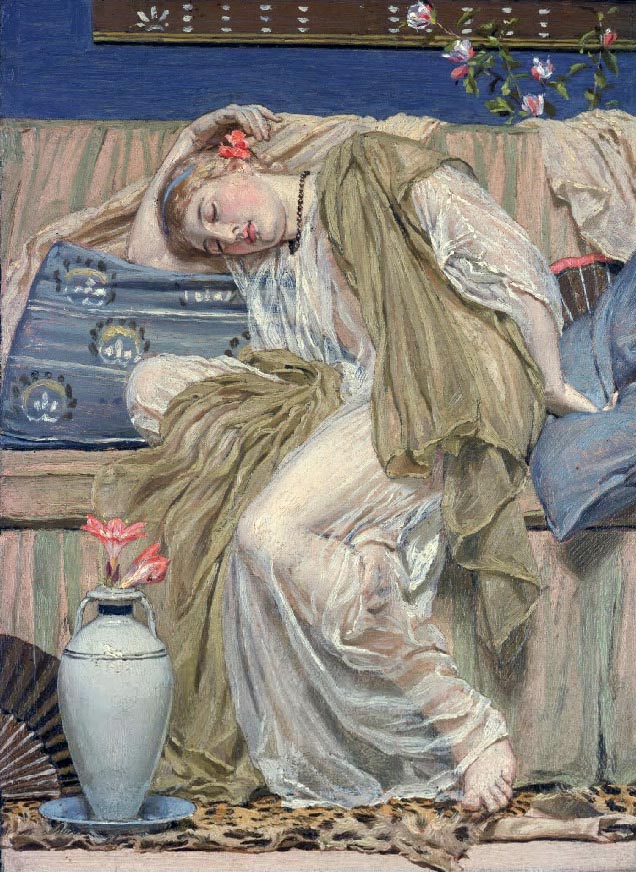 A sleeping girl, by Albert Moore. Painted around 1875, it measures 22.5 x 30.8 cm. Tate Gallery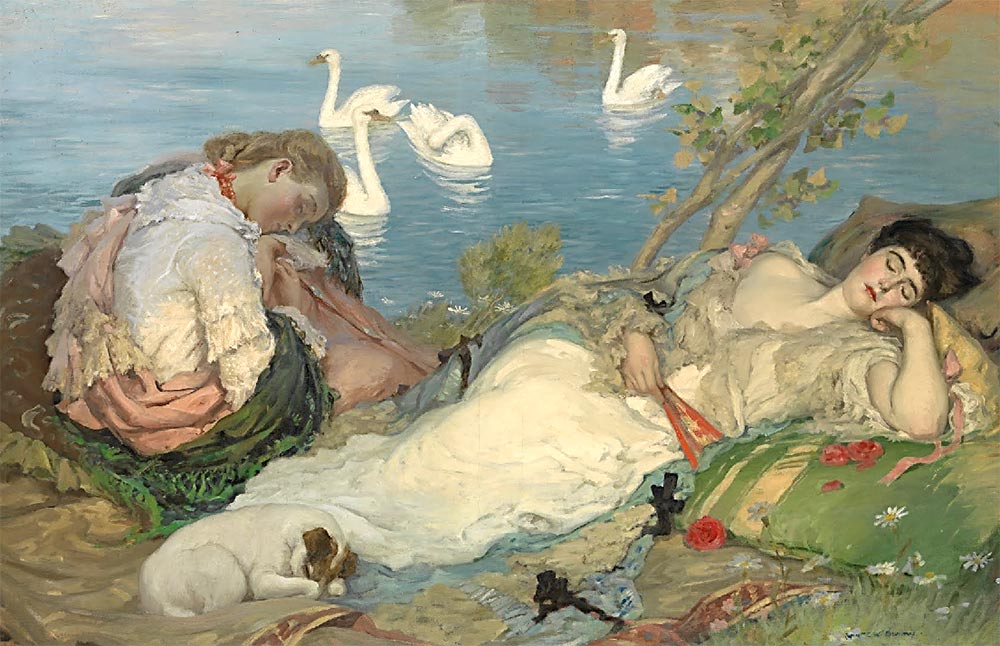 Rupert Bunny, Endormies (sleeping) 1904. Size 2005 x 1306 cm
See in Google art project
The theme of the sleepers is more creative than you might think at first. Why? Because everything you paint around that person who sleeps it's a influence of the thoughts, the quality of their dreams. For this reason, the decoration that we can add in the painting is enhanced with our own imagination.
This painting by Jackie Morris, my favorite children's story illustrator, is a wonderful and simple example. A child sleeps next to his dragon and the blankets full of shapes and colors add to the happy dreams.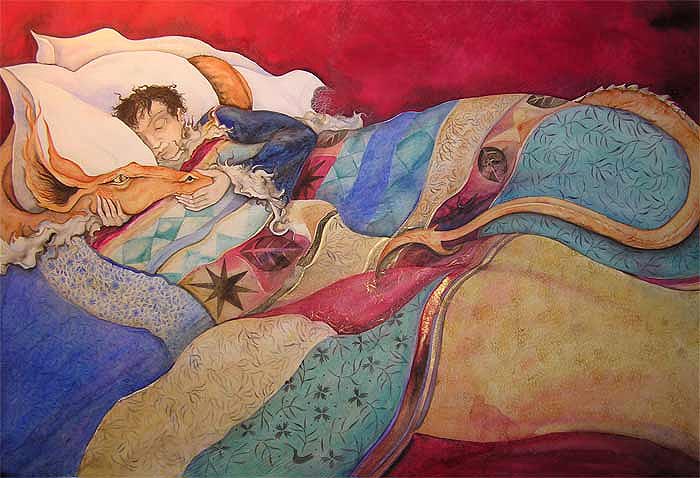 From the book "Tell me a dragon". Jacky Morris, who does watercolor illustrations, she has great imagination and color control. Jackie Morris Blog is here: Jackiemorris.co.uk/blog/
And finally, a modern work, by a painter with spectacular talent. His name is Sang Ik Seo and he is from Seoul, South Korea.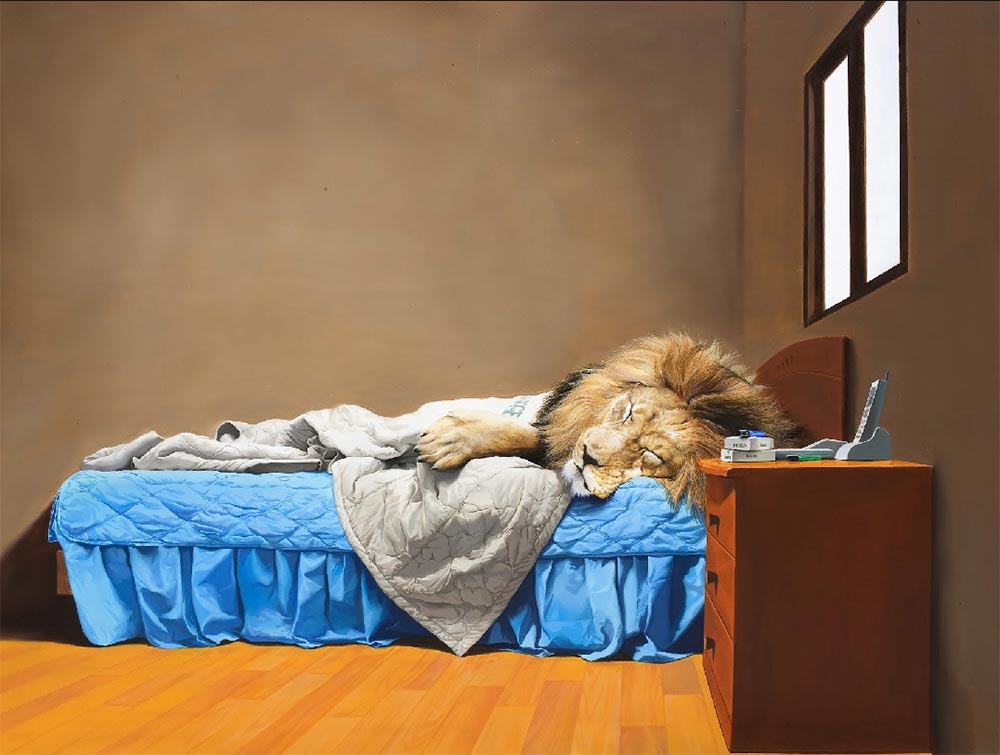 Sleeping lion, painted in 2007. It measures 1622 x 1303 cm. Seo, Sang Ik. The painting is in the Museum of Korean Art.
Artist Description: "On Sunday, I can't get out of my bed. At 4:00 pm a wild documentary starts on TV. I can't distinguish myself from a sleeping lion on TV. It's surreal."
Seo Sang Ik's gallery in Google Art Project
This is another good topic to make us want to paint. It can be from someone just sleeping, to a great dream.