Today I present to you a famous contemporary Spanish painter, who was born in Madrid but lives in Valencia and has been working for more than 35 years in this art profession that he loves. A painter with a meditated technique, pure colors but in harmony and many play into the forms. The search of beauty and the affection that he expresses in his artworks reminds us of Matisse, Picasso and the Fauves.
Merello has a very defined and strong pictorial style, according to his passion for painting. With this style, he has managed to guide his path as a painter, productive and effective in his work.
color changes, moves, alters and connects. Forms settle and the meaning appears
In this post I have selected some of his paintings, but he has many that you can discover on his website. These are some of my favorites.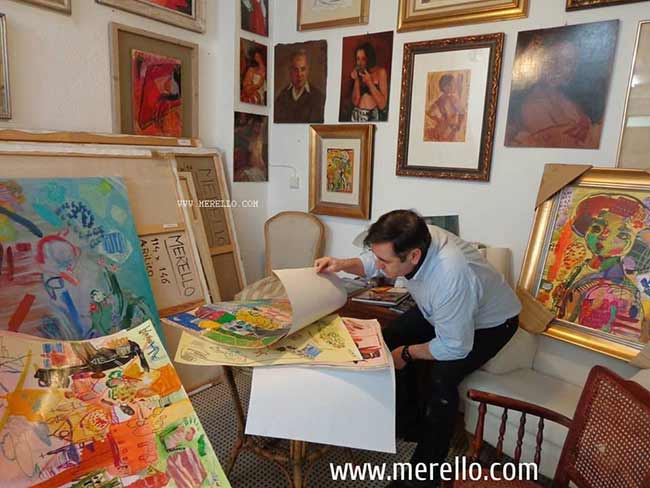 Paintings by contemporary Spanish painter José Manuel Merello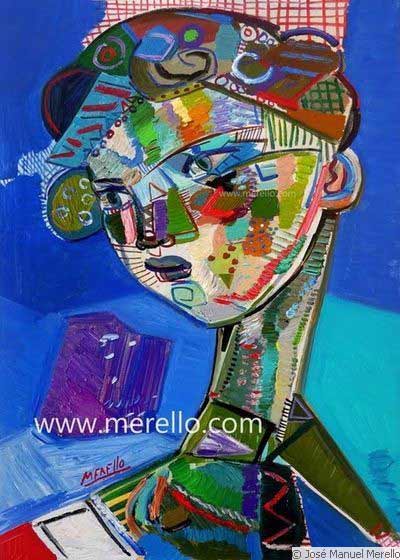 This young boy's eyes have that modern melancholy of some contemporary youngsters influenced by Japanese manga / anime style. The navy blue and green tones create a depth in the scene where the drawing of shapes of the figure manages to stand out from the variety of the face's colors.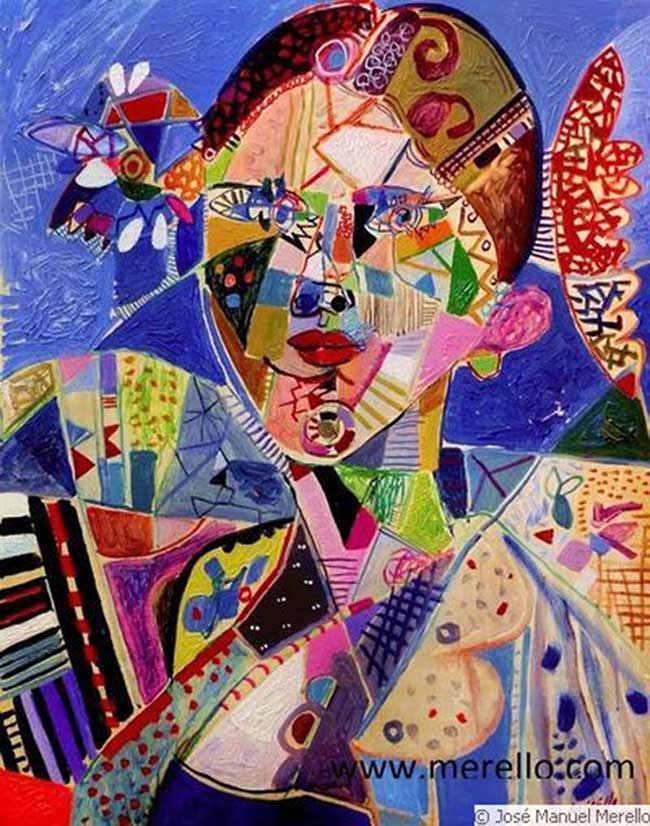 Painted with great influence from Picasso, multiplicity of forms and planes, ruptures and mergers, complementary colors and a balance generated thanks to the beautiful woman's look towards us, with carmine red lips and a metamorphosed suit.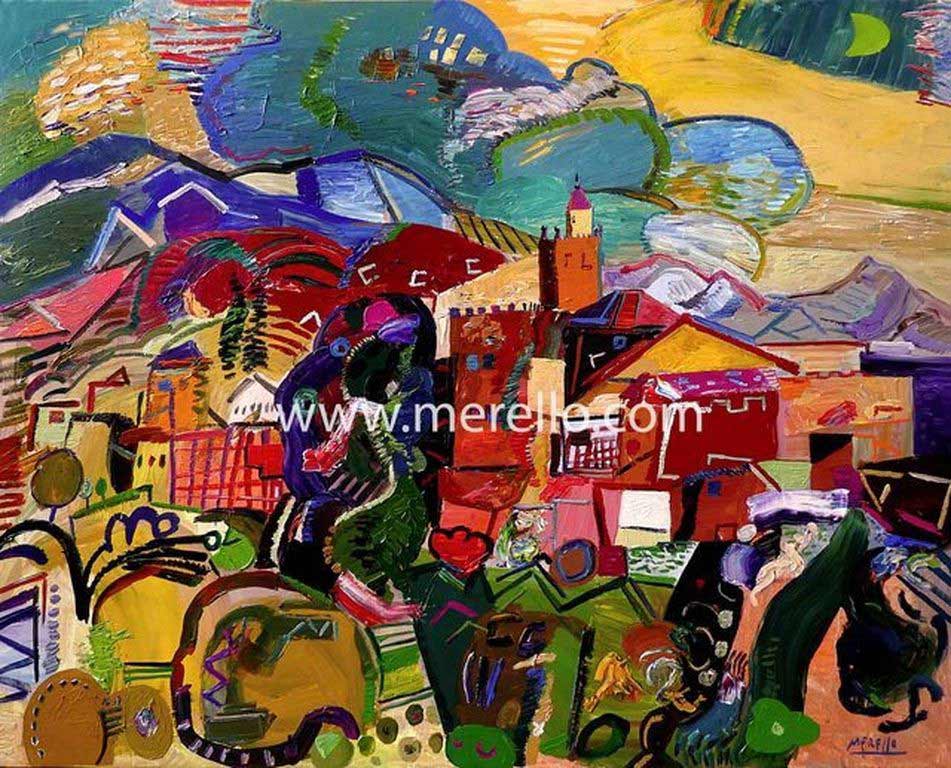 It's funny, but when I saw this painting, I immediately recognized something in it that I already knew. When I opened the image I discovered with joy that it is a landscape of the Alhambra in Granada, the city where I was living for about 8 months in 2010.
It is undoubtedly a magnificent landscape of Spain, due to the red, earth and ocher tones of the south.
The Alhambra in Granada is one of the most special places in Spain, and from the Albaicín viewpoint you can see the set of buildings that make up the Alhambra, as well as the extraordinary mountain behind, the Sierra Nevada.
However, this painting is very complex, with a lot of drawing and very mixed shapes. The black tones speak to us of historical contrasts, and the set of straight forms ascends towards the sky, where we see a green moon that illuminates the sky with golden light.
I think that those of us who have seen the Alhambra and his magnificent Arabic-style art, we can more easily understand the meaning that abstract shapes and colors take in this painting. The Alhambra influences the entire city of Granada.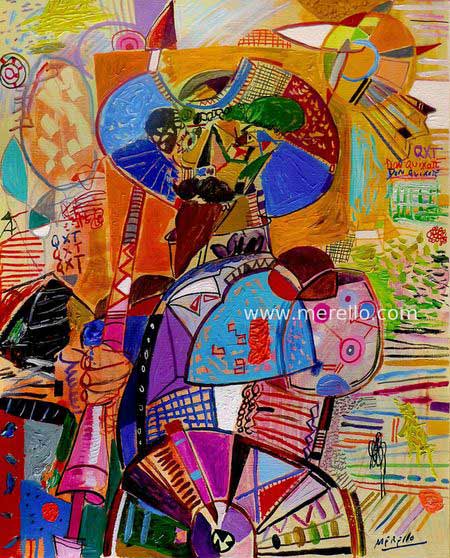 Created like child's play, where colors sparkle and move. This Don Quixote holds a spear that reminds me of Cervantes's pen, firm and enormous. Writers who inspire painters, adventure lovers and lovers of the impossible. A fun and intellectual painting at the same time.
And finally, another Don Quixote that almost borders on abstraction: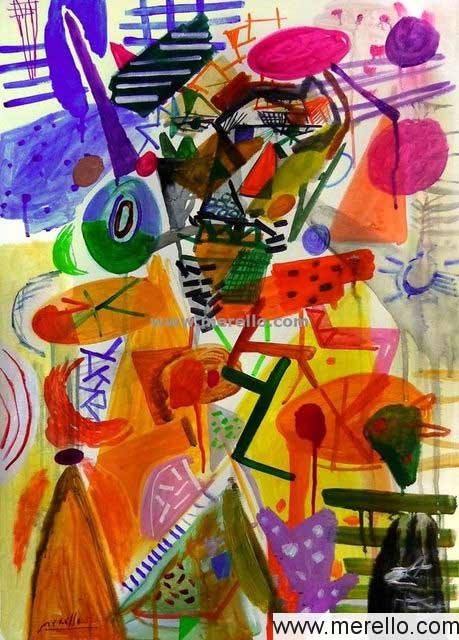 The freedom of the brushstroke is formidable, a play of colors and shapes that configure the character between abstraction and the disintegration of matter.
José Manuel Merello on Pinterest
Portraits and paintings with women
And his YouTube channel
Su página Web oficial
I hope that discovering the art of Merello has pleased you and motivates you in your search for your own personal, courageous and exciting style.