11 noviembre 2015 » Art materials » There are not comments
The pastel paintings are bars mades of pigments colors with a little of binder that allows us to make the bar shape.
Recipe to make your own pastel bars:
Dissolve the gum by heating the following proportion: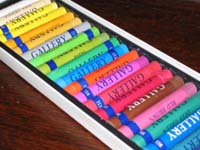 The pigment is mixed with the blend of water and tragacanth gum. You can also use a little ok skim milk, egg tempera, rabbit skin glue, and other simple binders.
To reduce moisture, we place the bars on blotting paper, and we knead it and let it dry with a rod shaped.
We can use all the best pigments as: Titanium Dioxide White or Zinc White, Red Ochre, Mars Reds, Burnt Sienna, Dark Yello Ochre, Mars Orange, Pthalo blue, Mars Violet, Burnt Sienna and Burnt Umber.
We can also do mixtures of pigments with white o noir bases. This serves to create color bars with others tones.
1 part of the base color + 3 parts of white or black
2 parts of the base color + 1 part of white or black = Pastel with the original color.
3 parts of the base color + 1 part of white or black
When the pastel painting artwork is finished, we don't have to fix it with varnish or lacquer if we want to preserve the traces of pigment that give to the pastel painting a vivid color.
Before finishing the artwork, pending the process of paint we can be fixed with a nonfat lacquer spray. Normally we use a rubber lacquer diluted in alcohol.
More info in this page: http://kurtwenner.com/blog/2012/09/01/creating-pastels/

Share this theme with your friends!