Acrylic paints are paints whose base binder resins are acrylic or vinyl glues, which creates a stable and elastic film. This glue sticks very well in a variety of materials. It works with water as diluent.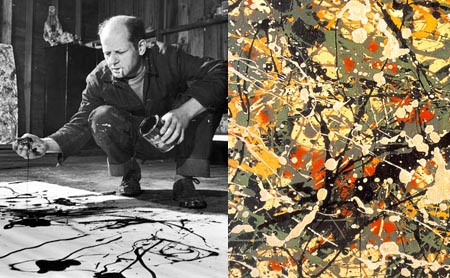 Pollock painting with acrylics.

Advantages:
Quick drying.
Clean with soap and water. Leaves no odor. Comfort at work.
Good color and quality, although this will depend on the acrylic we use, or mix up the pigments, and is a matter of taste, desires and needs.
Variety of media. Many mixability with collage and mixed media. This is thanks to the acrylic glue used to paste items, create textures.
You can paint over oil as a final picture. In this case it is better to let it dry very well first acrylic.
Disadvantages:
The same quick-drying can be an inconvenience to have to use liquid retard "Retarder".
Brushes can spoil much if not careful because the paint dries quickly and acrylic, once hardened, hard to clean.
To make transparencies can use more water or a liquid "transparentizador".
To make effects, fillings / impasto and glazing can use a "Acrylic Gel", mixed with more pigment or other materials. On this subject you can see the entry: Materials for creating textures in tables.
Increased risk of crazing in the table especially if the work is exposed to sudden temperature changes and if you added a little water in the acrylics.
Acrylic Techniques
Acrylic is a painting by which a person can paint in the room of a house smell unfilled the rest of the house. And you can paint in format, technique and desired so much as it provides free and is a medium that has great expressive power and representation.
We recommend using the same picture in the same brand or type of acrylic to prevent chemical reactions that can damage the paint over time.
They use natural bristle brushes as much spoils acrylic brushes. For details and finishes are used synthetic brushes.
To dilute purchased acrylics, besides water, may also be used "thinners" acrylics, acrylic to remain more stable.
You can paint in many ways using, sprayers, sponges, spatulas, scrapers, rollers, varnish, etc.. Acrylic is the base used for the mixed media with other materials.
Manufacture or production of acrylic
Acrylics can be manufactured with acrylic glues themselves, which also serve to prime, and powdered pigments. All this is sold in drugstores and craft shops. You can mix the pigments and tail and put in wide mouth jars or tubes to fill. In botos must add a finger of water to prevent drying paint. And the tubes must be secured very well to the thread and the bottom closure. It is advisable to put enough binder, because with excess pigment can produce more cracks on drying paint. If we exceed the paint binder will be too bright, so we must look for the ideal.
There are a variety of acrylic for sale and various qualities. We can find from very cheap acrylics, with low quality, since industrial size cans to paint large format, ideal for spending a lot of very expressive painting and fillings. Even professional acrylic special pigments of excellent qualities.